College and University Students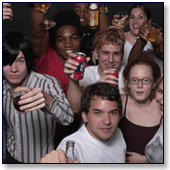 The prevalence of alcohol use among college students is a concern for school administrators and parents alike. Students spend a vast amount of money on alcohol -- far more than they spend on textbooks. The number of students who binge drink, that is, consume five drinks in a row (men) or four drinks in a row (women) on one occasion, is high.
The Harvard School of Public Health Survey of 1993, which examined a nationwide sample of students, produced some illuminating findings:
44 percent of students engaged in binge drinking
almost 4 percent reported daily consumption of alcohol
many academic and social behavior problems were associated with alcohol and other drug use
Students who consume alcohol frequently engage in risk-taking behaviors, including:
driving while drunk
riding with a drunk driver
missing classes
performing poorly academically
fighting
having unprotected sex
engaging in casual sex with partner not well known to drinker
sexual assault (as victim or perpetrator)
property damage
carelessness resulting in injury
drinking games
behavior resulting in arrest
becoming verbally abusive
Alcohol use is a strong predictor in campus sexual assaults, property damage, injury, and poor academic performance. In addition, there are frequent fatalities among college students from alcohol poisoning, the result of ingesting too much alcohol in a short period of time.
Colleges and universities face a major challenge to prevent such tragedies. Schools must educate students on the dangers of alcohol use. The Drug-Free Schools and Campuses Act requires that schools provide students written information each year that includes:
information about health risks associated with alcohol and other drugs of abuse (illegal)
description of counseling and treatment services for students and employees
standards prohibiting the use of alcohol or illicit drugs by students and employees on school property or in school activities
details of laws applicable to unlawful use of drugs or alcohol
notification that violators face disciplinary action
school standards for disciplinary action for student or employee violators
There is also campus concern for the secondary effects of drinking, that is, the effects on other students. There is evidence that drinking behavior infringes upon the rights of nondrinkers.
Some problems include:
loss of sleep
interference with studies
property damage
verbal abuse
physical assault
sexual assault
having to care for a drunken student
The Prevention Primer describes methodologies adopted by some college campuses to reduce alcohol consumption.
Enforcement - fines, sanctions for underage alcohol consumption
Availability - regulation of alcohol on campus. This can be done by banning alcoholic beverages in the campus environs
Pricing - Banning the campus advertisement of reduced-priced drinks for students at "happy hours"
Peer Counseling - training programs for peers to educate other students about alcohol use
Advertising/Sponsorship - banning alcohol advertising and barring alcohol manufacturers from sponsoring events
Alcohol-Free Residence Halls - prohibiting use of alcohol in dormitories
Other prevention methods may include:
educational programs designed for new students to help them gain refusal skills in situations where alcohol might be served
providing alternatives to the campus "bar scene"
training of residence hall assistants to identify, and refer accordingly, students who may have alcohol problems
inclusion of substance abuse education into the curriculum
require that nonalcoholic beverages and food be provided at all events where alcohol is served, and encourage local taverns to do the same
involving the community in a collaborative effort to keep young people safe
College Students and Alcohol
Binge Drinking on Campus
http://www.pire.org/documents/EnviroStrat.pdf
Facts on Tap
http://www.factsontap.org/
Hot Topic: College Binge Drinking
http://www.drugfree.org/join-together/drugs/activities-key-to-cutting
What is Binge Drinking?
http://www.intheknowzone.com/binge/what.htm
College Student Binge Drinking Causes Problems Throughout School
http://www.ndsn.org/jan95/college.html
Alcohol still top health risk to college students
http://articles.cnn.com/1998-11-23/health/9811_23_binge.drinking_1_binge-drinking-scott-krueger-highrisk-drinking?_s=PM:HEALTH
College Drinking
http://alcoholism.about.com/library/weekly/aa091097.htm
Secondary Effects of Binge Drinking on College Campuses
http://www.higheredcenter.org/services/publications/secondary-effects-heavy-drinking-campus
References
Weschler, H., Dowdell, G. W., Davenport, A., and DeJong, W. 1993. Binge Drinking on Campus: Results of a National Study. Bulletin of the Higher Education Center for Alcohol and Other Drug Prevention
Weschler, H., Austin, B., and DeJong, W. 1996. Secondary Effects of Binge Drinking on Campus. Bulletin of the Higher Education Center for Alcohol and Other Drug Prevention
Prevention Primer. 1993. Center for Substance Abuse Prevention