Education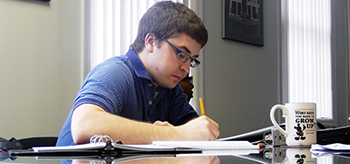 A highly interdisciplinary faculty, who are experienced researchers and educators, carries out the work of the WVU ICRC's Education and Training Core.  In addition to courses taught by a large cadre of public health faculty, the WVU ICRC offers courses taught by certified health education specialists, and faculty with expertise in health communications, safety engineering, pharmaceutical science, psychology, and medicine.  The faculty also has an established track record of mentoring students through a variety of experiential learning initiatives, including research rotations and graduate assistantships.

Formal training activities of the Center have focused on two degree programs in particular – the Master of Public Health (MPH) and the Doctor of Philosophy in Public Health Sciences (PhD).  The Center conducts a number of activities to foster acquisition of skills specific to injury prevention and control among these two cohorts of students, though students from other disciplines are not excluded from enrolling in injury-related courses.

Students at WVU benefit from state-of-the-art educational facilities, including a recently constructed Health Sciences Learning Center, an extensive University Libraries system, and classrooms equipped with "smart" podium and related technologies.  Under the auspices of the West Virginia Clinical and Translational Science Institute, we also offer a Certificate in Clinical & Translational Science, an M.S. degree in Clinical & Translational Science, and Health Professional Student Training in Community-based Participatory Research.  The WVU Health Sciences Center offers NIH-supported doctoral training programs in Cardiovascular & Pulmonary Sciences (NHLBI T32 grant), and Behavioral & Biomedical Sciences (NIGMS T32 grant).  The WVU School of Public Health will expand upon the existing public health training and will offer the MPH degree in Biostatistics, Epidemiology, Health Policy, Occupational and Environmental Health, and Social and Behavioral Science.  Doctoral degrees will be offered in the Departments of Occupational and Environmental Health, Epidemiology, and Social and Behavioral Science.  In addition, currently offered joint degrees – MD/MPH and MPA/MPH – will continue in the School of Public Health. 

In addition to the Center's public health training focus, WVU ICRC affiliated faculty members also provide relevant educational experiences in other graduate degree programs including psychology, sociology, and transportation engineering and safety.  Our engineering faculty members also teach a number of courses leading to a Masters of Science in Safety Management.

The WVU ICRC's educational program includes innovative experiential learning opportunities for students in collaboration with our state partners and other federal agencies.  Our program to educate medical students has been featured in the newsletter of the Association of American Medical Colleges.