Elizabeth Claydon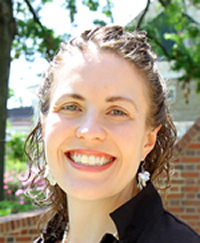 Elizabeth Claydon is a PhD candidate in Social & Behavioral Sciences. Her current research looks at the inter-generational transmission of eating disorders and dieting behavior. Elizabeth is a native of Morgantown and has returned home after 10 years of living out of state.
Elizabeth's work as a Graduate Research Assistant at the ICRC looking at psychiatric epidemiology within injury research, including suicide prevention and binge eating disorder. She also serves as the President of the Gamma Mu Chapter of the Delta Omega Honorary Society in Public Health, and on the WVU Council for Women's Concerns. Elizabeth is also the co-chair of the Academy for Eating Disorders' Social Media Committee.
In her spare time, Elizabeth enjoys writing, gardening, and pottery, and spending time with her husband, Brian, and 2-year-old son, Nathaniel.
Email: eac0006@mix.wvu.edu