News Archive, 2013
Adam Baus and Jeff Cox, two WVU experts in healthcare data collection and analysis, presented "Using Electronic Health Records for Research Purposes," as part of WVU Injury Control Research Center Research Webinar Series Oct. 11 at the Robert C. Byrd Health Sciences Center. To view the presentation, see: http://www.youtube.com/watch?v=X9o4jDMIN1I&feature=youtu.be. *PLEASE NOTE: Due to low video quality, the first portion of this presentation by Jeff Cox has been removed and does not appear as part of the posted video. If you would like to learn more about this project, please contact WVCTSI@hsc.wvu.edu.
A study about the correlation between discrimination and drug abuse by Haslyn E. R. Hunte, Ph.D., assistant professor in the WVU School of Public Health Department of Social and Behavioral Sciences, and San Diego School of Public Health professor Tracy L. Finlayson has been published online in the Journal of Urban Health: http://wvuhealthnews.com/news/story?headline=wvu-public-health-researcher-examines-link-between-discrimination-and-drug-abuse
Dr. Jeffrey Coben, director of WVU's Injury Control Research Center and Interim Dean of the WVU School of Public Health, was recently quoted in the "Risky Driving" section of an article called "Impactful Distraction" in the Sept. 7 issue of ScienceNews. The article is available here: http://www.sciencenews.org/view/feature/id/352266/description/Impactful_Distraction.
Lara Beth McKenzie, PhD, MA, an associate professor in the Division of Epidemiology at Ohio State University's College of Public Health, presented a Public Health Grand Rounds Sept. 4 at WVU's Robert C. Byrd Health Sciences Center. Dr. McKenzie is principal investigator at the Center for Injury Research and Policy, a component of the Research Institute at Nationwide Children's Hospital, on a project called "Development of a child-resistant spray-bottle for household cleaning products. McKenzie presented a discussion of her research into developing new, safer, child-resistant designs for spray bottles that contain household cleaning products. The presentation included video from national media coverage of her research, designs and prototypes.  The event was presented by WVU's School of Public Health in collaboration with the WVU Injury Control Center. Below is a photo from McKenzie's presentation.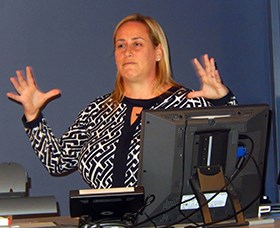 Dr. Motao Zhu talked about his research comparing motor vehicle crash fatality rates in Appalachia to those in the rest of the U.S. with West Virginia Public Radio producer Ben Adduchio To hear the interview, visit the WV Public Radio Website and click on the built in media player, or download the mp3 file at the following link: http://www.wvpubcast.org/newsarticle.aspx?id=30110
ICRC grad research assistant Sheena Sayres to present her abstract at the APHA conference this fall. For full story, see: http://bit.ly/10ifpwL