News Archive, 2014
Christiaan Abildso, PhD, MPH, presented "The Burden of Pedestrian- and Cyclist-Motor Vehicle Crashes (PCMVCs) and Costs in West Virginia: 2000-06," as part of the WVU Injury Control Research Center's Research Webinar Series, March 18, 2014 at the Robert C. Byrd Health Sciences Center. Abildso is an assistant professor in WVU's Department of Social and Behavior Sciences. To see a video recording of his presentation: https://www.youtube.com/watch?v=1DTF3cyRXJ0
Danielle Davidov, PhD, presented "Intimate Partner Violence in Appalachia:  Initial Findings and Future Implications," as part of the WVU Injury Control Research Center's Research Webinar Series, April 15, in the Hostler Auditorium at WVU's Health Sciences Center.
The presentation will discussed initial results from an ongoing survey focused on intimate partner violence and related health outcomes in WVU Emergency Department and WVU Urgent Care patients. 
A new video of Dr. Davidov's presentation has been added to the ICRC Youtube page: https://www.youtube.com/watch?v=CE4Is9JKlCQ.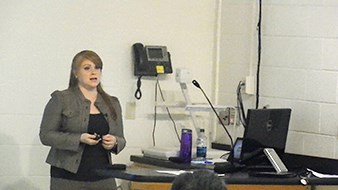 Congratulations to student and faculty awardees at the 2014 WVU-ICRC Annual Awards Ceremony.  Toni Rudisill (shown below with WVU-ICRC Director Jeffrey Coben, MD) garnered the Outstanding Student Research Award in the ceremony on Thursday, May 8, 2014 at the West Virginia Room of the Robert C. Byrd Health Sciences Center.  Other awardees included Jeffrey Gregg, Student Travel Award; Keaton Hughes, who completed the Concentration in Injury Prevention and Control; and Motao Zhu, Ph.D., who received the Faculty Teaching Award.  For additional photos, and more information on these awards, click here.