Residency Advisory Committee
The mission of the Residency Advisory Committee (RAC) is to promote a residency training experience that is aligned with preventive medicine practice.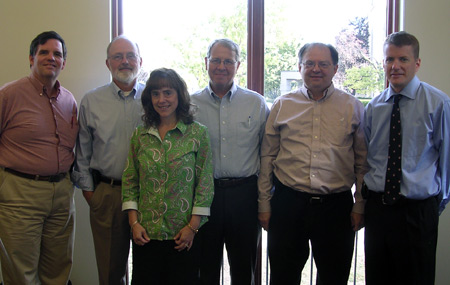 WVU Occupational Medicine Residency Advisory Committee (RAC)
L-R: C. Werntz, J. Becker, E. Scharman, D. Deeter, S. Guffey, C. Martin
Members
James Becker, MD
Dr. Becker has served on the RAC since 2003. He comes to us with a wide-range of experience in occupational medicine by previously serving as Commissioner to the Office of Medical Management of BrickStreet Mutual Insurance Company (formerly State of WV Workers Compensation Commission) as well as the WV Offices of the Insurance Commissioner. His special interests include toxicology, occupational lung disease and agricultural medicine. He teaches a section on edible plants and mushrooms for the Wilderness Medicine program at Marshall University where he is currently Associate Professor and Director of Clinical Services for Occupational Medicine.
Steven Guffey, PhD, CIH
Dr. Guffey has served on the RAC since 2003. He is a Professor in the Industrial and Management Systems Engineering Department within West Virginia University, and he serves as the Program Coordinator for the Industrial Hygiene Masters of Science program. His research focuses are ventilation design (especially hood design), noise control, hearing protector effectiveness, and experimental exposure assessment. Other activities include providing industrial hygiene consultation and ventilation system evaluations and design for industrial operations. Dr. Guffey received his PhD in Industrial Hygiene from the University of North Carolina at Chapel Hill.
Tee L. Guidotti, MD, Chair
Tee L. Guidotti is a consultant in occupational and environmental health and medicine based in Washington DC (USA) and Toronto (Canada). He is a physician with training and medical specialty qualifications in internal medicine, pulmonary medicine and occupational and environmental medicine and with formal training and qualification in toxicology and environmental sciences. He is the former Professor and Chair of the Department of Environmental and Occupational Health in the School of Public Health and Health Services, The George Washington University Medical Center, Washington DC, and Director of the Division of Occupational Medicine and Toxicology in the Department of Medicine, School of Medicine and Health Sciences. Prior to taking that position in 1999, he was for 14 years Professor of Occupational and Environmental Medicine and Director of the Occupational Health Program in the Department of Public Health Sciences at the University of Alberta in Edmonton, Canada, where he was a Killam Annual Professor. He has been a Fulbright visiting professor in science policy at the University of Ottawa (Canada). His research interests include occupational and environmental lung diseases and inhalation toxicology, ecosystem-level environmental health effects, and health and sustainability. He is best known in occupational medicine for his expertise on the occupational health problems of firefighters and oil and gas workers. His environmental interests include air quality, risk science, ecosystem and human health, and child health and the environment. He is the author of over 300 papers and book chapters and has produced six books, including the recent Health and Sustainability (Oxford, 2015), and numerous short editorials and features in the journal he edits, Archives of Environmental and Occupational Health (the oldest continuously-published journal in the field in the Americas). Dr. Guidotti is the author of the three-volume work, The Praeger Handbook of Occupational and Environmental Medicine (Praeger, 2009) and editor of Global Occupational Health (Oxford, 2010). Dr. Guidotti has served as President of the American College of Occupational and Environmental Medicine and holds many fellowships and awards, including the Knudsen Award for career achievement in occupational medicine, the highest American award in the field. He is currently President of Sigma Xi International, the Scientific Research Honor Society. His website is www.teeguidotti.com.
Ashish D. Nimbarte, PhD
Dr. Nimbarte became member of the RAC in 2011. He received his Ph.D. in the Interdisciplinary program in Engineering Science majoring in Industrial Engineering from the Louisiana State University. He is an Assistant Professor in the Industrial and Management Systems Engineering Department at West Virginia University and serves as the Program Coordinator for the Occupational Safety and Health Engineering (OSHE) program. His research interest is in the general area of work related musculoskeletal disorders, with a primary emphasis on the cervical spine disorders.
Kenny Perdue
Mr. Perdue is current president (since 2004) of the West Virginia AFL-CIO and chairman of the AFL-CIO Appalachian Council.  He has been a member of the Sheet Metal Workers International Association since 1973 and served on the executive board of Sheet Metal Workers LU 299 from 1980 to 1989. 
Kenny serves on numerous commissions and executive boards, including Reconnecting McDowell, West Virginia Blue Ribbon Commission on Highways, Judicial Vacancy  Advisory Commission, Vision Shared Board, Governor's Work Force Investment Council, Imagine WV and Discover the Real West Virginia Foundation. 
Elizabeth Scharman, Pharm.D., DABAT, BCPS, FAACT
Dr. Scharman is a tenured Professor of Clinical Pharmacy at West Virginia University. She received a B.S. in Pharmacy (1986) from Butler University and a Pharm.D. (1991) from Virginia Commonwealth University (Medical College of Virginia) then completed a Clinical Toxicology Fellowship (1992) at the Pittsburgh Poison Center/University of Pittsburgh. She is currently the Director of the West Virginia Poison Center; a position she has held since July 1992. She is currently the Deputy Strategic National Stockpile Coordinator for West Virginia. She is involved in multiple disaster related projects in West Virginia including being an active member and past Chair of the Kanawha/Putnam Emergency Planning Committee. Her research focus involves evidence-based evaluations of clinical toxicology practice.