Public Health Training Center
A member of the Nation's network of public health training centers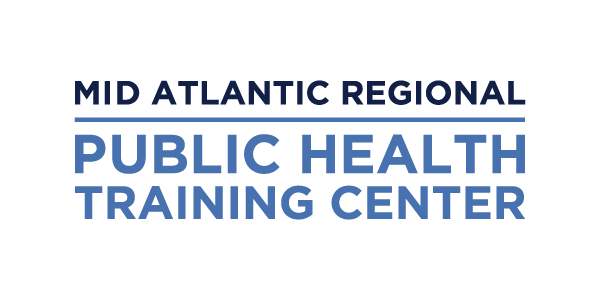 The Office of Public Health Practice and Workforce Development is proud to be West Virginia's local performance site for the Health Resources and Services Administration Mid-Atlantic Public Health Training Center.
Who We Are
The Mid-Atlantic Regional Public Health Training Center is part of a national network of 10 public health training centers funded by the Health Resources and Services Administration to improve the nation's public health system by strengthening the technical, scientific, managerial, and leadership competence of the current and future public health workforces.

Based at the University of Pittsburgh's Graduate School of Public Health, the Mid-Atlantic Regional Public Health Training Center joins with West Virginia University School of Public Health, Drexel University Dornsife School of Public Health, Johns Hopkins University Bloomberg School of Public Health and the Institute for Public Health Innovation.
The Center's team includes university faculty, health educators, communication and information technology specialists, instructional designers, program coordinators, and professional trainers.

Our regional website offers training from all five institutions.  Please check it out.
What We Do
Improve the performance effectiveness of the public health system by enhancing the capability of the public health workforce to deliver population-based services.
Assess training needs and then address those needs through the development and delivery of multi-modal training opportunities.
Provide training opportunities on a variety of topics, ranging from behavioral health programming for smoking cessation to computer programs that track an infectious disease spread and simulate interventions to stop it.
Provide organizational development services and Competency-based Training Programs for public health agencies seeking accreditation.
Who we reach
Training participants include health educators, nurses, social workers, public health administrators, physicians, municipal health officers, nutritionists, program coordinators and many other public health professionals who work to promote health and prevent illness and injury at the population level. Partnerships with the state, county and city health departments as well as partnerships with professional associations and community-based coalitions connect the Training Center with its target audience.
Training
Skill-based training and continuing education opportunities are targeted to the needs of the public health workforce and health care providers.
Face-to-face instructor led workshops
Webinars
Video conferences
Audio podcasts
Continuing Education
The Mid-Atlantic Regional Public Health Training Center is an approved provider of continuing professional education for certified health educators by the National Commission for Health Education Credentialing and practitioners certified in public health by the National Board of Public Health Examiners. The Center also provides nursing and social work continuing education credits.
For more information, contact:
The Office of Workforce Development and Public Health Practice, School of Public Health, West Virginia University at wvphtc@hsc.wvu.edu

Ranjita Misra, Ph.D.
Director, WVU Public Health Training Center
Bobbi Sykes, BSMT(ASCP), MS
Director of Practice-based Learning
Crystal Rhodes
Office Administrator


Acknowledgement
This project is supported by the Health Resources and Services Administration (HRSA) of the U.S. Department of Health and Human Services (HHS) under grant number UB6HP27882 Affordable Care Act (ACA) Public Health Training Centers for $855,000.00. This information or content and conclusions are those of the author and should not be construed as the official position or policy of, nor should any endorsements be inferred by HRSA, HHS or the U.S. Government.