SEVAK Project
Sanitation and Health Education in Village communities through improved Awareness and Knowledge of Prevention/Management of Diseases and Health Promotion (SEVAK) Project
SEVAK Project : Improving Access to Care in Rural India
Collaborators:


Mission:
To create a pilot program for access to care in rural areas of the world using local resources.
Vision:
To educate one person per village (population 1500-2000) in healthcare, sanitation and lifestyle modification education. This individual will screen the village population (including pregnant women) for diabetes, hypertension, chronic diseases, immunization and provide lifestyle modification education. He/she becomes the single point of contact for all healthcare of the villagers by forming liaison with the community health clinic, district hospital and the private practitioner. Having a person who lives in the village and does the Sevak work has an immediate buy in form the villagers.
Project Staff:
TG Patel, MD, MACP
Chairman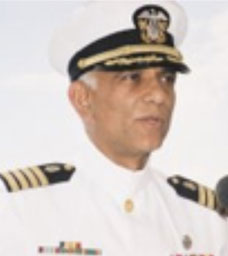 Ranjita Misra, PhD, CHES
Co-Chariman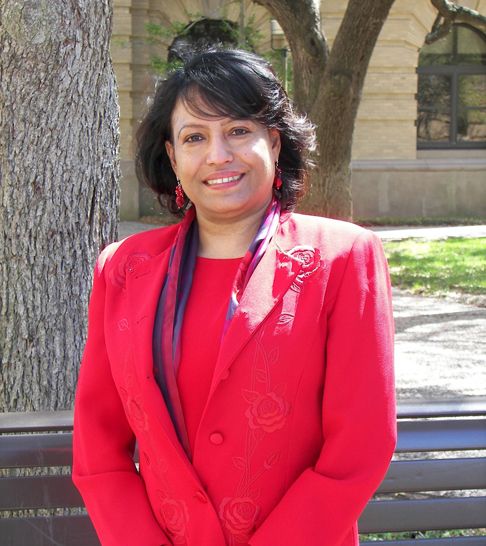 Hemant Patel, MD
Co-Chairman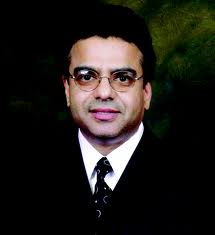 Padmini Balagopal, PdD, RD, CDE
Consultant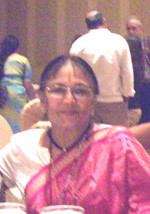 Kirti Patel
Project Coordinator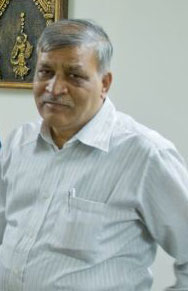 Organizational Structure
Click on the image to view larger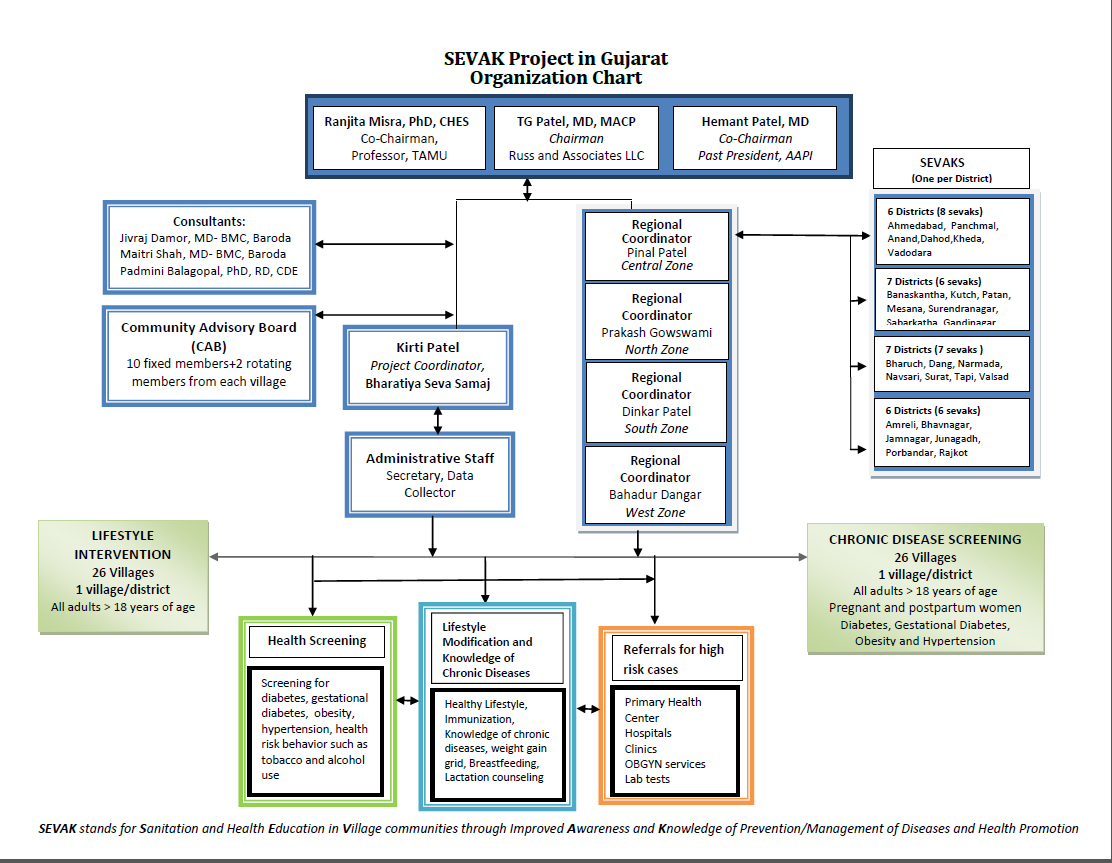 Background and Significance
India is undergoing an epidemiological transition with both non-communicable and chronic diseases are the leading causes of death.  Four studies in the state of Tamil Nadu and Gujarat showed marginalized access to health care. Seventy per cent of India lives in the villages (700 million people) and the importance of educating and delivery of healthcare to this large base of India in its resource-poor settings becomes an urgent and viable issue. Large-scale efforts to improve general awareness about diabetes, hypertension, cardiovascular disease, its risk factors, and to promote healthy lifestyles were lacking.
Purpose
SEVAK project is a statewide intervention of chronic disease prevention and management. It is an evidence-based project to improve sanitation and health education in rural communities through improved awareness and knowledge of chronic disease prevention and management. It uses the US Navy's Independent Duty Corpsman(IDC) model for training and work on a smaller scale. The Sevaks training was for two and half months vice one year for IDC. Out of 27 Sevaks, 17 are educated to 12th grade and the rest are in the various stages of college or dropouts. The project is based in the State of Gujarat, and one village per district (or county) was selected. Sevaks were trained at Baroda Medical College, Vadodara with emphasis on lifestyle intervention and health screening for diabetes, hypertension, obesity, immunization and chronic diseases. Sevaks also received training in sanitation, environment, water purification, infectious diseases and how to build toilets and smokeless stoves.
The project started in July 2010 and has screened over 10,000 people.  It is one of the most successful non government project.
Criteria for a Sevak
The person should meet the following criteria. He/She must live in the village; has a graduate degree if possible but high school level maybe fine.  They can continue to work in the farms but must have the willingness to work in their own community. Girls are acceptable for the program as long as they plan to live in the village for a long time. They will be given training in Baroda for three months (lodging & boarding provided). They should be able to read English, need not be proficient.  We are planning to start the first class in March 2010.
Publications

Patel, AJ, Patel, TG, Patel H, Balagopal, P, Damor J, Misra, R. (2010). SEVAK: A Pilot to Address Health Needs of Rural India. AAPI Journal: The Journal of the Indian American Physicians, 42 (2), 12-14.
SEVAK Videos
Click on the links to see the videos