WVU Day of Giving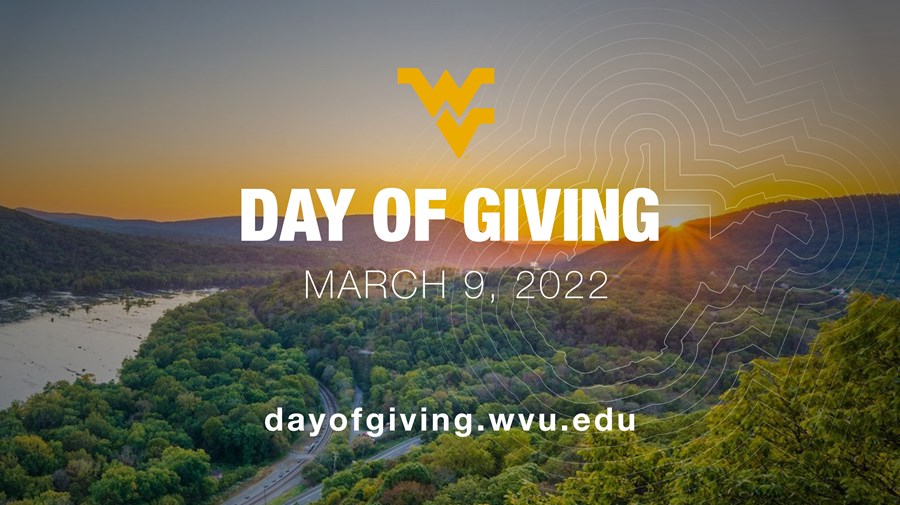 Day of Giving Challenges 
Throughout WVU Day of Giving on March 9, you'll have the opportunity to exponentially increase the value of your gift and multiply your impact on the School of Public Health by participating in various challenges throughout the day. A few are highlighted below: 
*School of Public Health Participation Challenge (all day) 
The first 50 donors to support the School of Public Health (SPH) will unlock a $10,000 gift from the SPH Leadership Council, MHA Advisory Council and members of the SPH Administrative team.
*Thank you to the donors who made this challenge possible: 
From the SPH Leadership Council: 
Mr. R. Dean Hartley
Dr. Mohannad Kusti
Stuart M. Robbins
Dr. Catherine C. Slemp
MHA Advisory Council: 
David and Noel Goldberg
Douglass Harrison
Kyle A. Pierson 
SPH Administrative Team: 
Dr. Linda A. Alexander
Dr. Erik (and Tammy) Carlton
Dr. Jeffrey H. Coben
Dr. Sarah Woodrum
Anonymous donor 
First-Time Donors Challenge (noon to 1 p.m.) 
Never made a gift to WVU? Please consider making one this hour! Every gift helps! The top three participating groups with the most first-time donor gifts between 12 and 1 p.m. will win additional funding.
Thank a First-Responder or Frontline Worker Challenge (2 to 3 p.m.)
Between 2 and 3 p.m. on social, post a special message of thanks to a first responder or frontline worker who is making an impact during the pandemic. Be sure to use #WVUDayofGiving and tag the School of Public Health. The top three schools/colleges will earn bonus funding. 
For a full list of challenges that will help unlock additional support for the School of Public Health, visit dayofgiving.wvu.edu/PublicHealth
Get Connected
Be sure to follow/like the School of Public Health, WVU Foundation and West Virginia University on social media to stay in the know leading up to and on Day of Giving. 
Questions? 
Contact Tiffany Walker-Samuels, director of development for the School of Public Health.