Community partnership provides strong foundation for Public Health students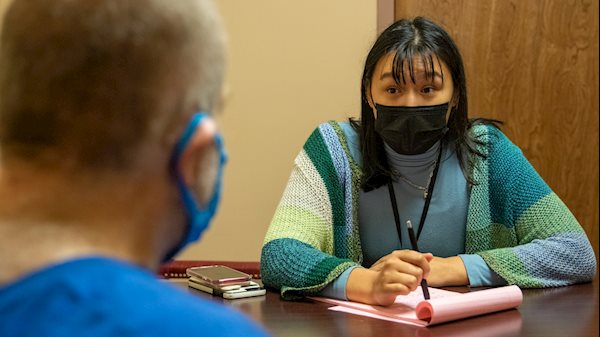 When Annie McVey and Katerina Cleaver submitted their West Virginia University admission applications, "public health" wasn't really on their respective radars. Seemingly on different journeys to becoming a nurse and doctor, respectively, the two undergraduates would soon cross paths and end up navigating their first jobs together.
Helping through health care
McVey discovered her passion for helping others while volunteering with her mother who worked for nonprofits in the Charleston, West Virginia, area. When it came time to apply to college, West Virginia University was an easy choice – both of her parents are alumni – but she wasn't quite as certain when it came to choosing a major.
"I am from a small town just outside of Charleston, and I felt really called to stay in West Virginia," she said of choosing WVU. "I knew that I loved helping people and I loved working in the community, but I really had no idea how to take my interest and what I loved and transform that into something I could study and make a career out of."
As her freshman year in the nursing program came to an end, a conversation with her sorority big sister, who could clearly see McVey's passion for helping others and working in the community, recommended she check out the School of Public Health.
"Without her, I would have never discovered public health," McVey said.
Cleaver's decision to attend WVU was also made easy after a particularly beautiful day in Morgantown. Although the summer had been rainy, her campus tour took place on a sunny afternoon and she immediately knew it would be home for the next four years.
"It was the rainiest time in West Virginia, and I just happened to visit on the one sunny day," she said of her trip. "We walked out of the Mountainlair, it was just a beautiful day and I could see Woodburn. And I was like, 'Wow, I have to go here.' And that was kind of it for me."
A native of Medford, New Jersey, Cleaver only ever wanted to become a doctor. Like McVey, after her freshman year she realized her chosen major wasn't the right fit.
"I still wanted to be able to help people," she said of searching for a new academic program. "Then, I found a couple avenues in public health that I really fell in love with."
Housing is health care
For many students, like Cleaver and McVey, a career in public health is something they don't fully understand. Public health professionals often work behind the scenes, striving to prevent diseases and injuries from occurring in the first place. Through educational and service programs, intervention efforts, policy development and influence, and scientific and behavioral research, public health professionals are dedicated to improving the health and prolonging the lifespan of all populations.
Once her classes got underway, Cleaver realized there was much more to public health than she originally thought.
"In my first class, we discussed population health, environmental health, epidemiology and the social side of public health," she said of her introduction to the program. "I also had a class where I did community service hours at the Collegiate Recovery Program. Public health wasn't what I imagined it would be based on what I thought I knew, and I think that's what I liked the most."
Cleaver would soon learn that housing is also a major component of public health.
Research has shown that people who are homeless have higher rates of illness and die on average 12 years sooner than the general United States population. Whether individuals who are homeless are sheltered or unsheltered, they experience a number of adverse health outcomes that are often exacerbated by inherent emotional and mental stressors.
One approach to ending homelessness, Housing First, has been proven effective by prioritizing providing people with permanent housing as quickly as possible and then providing supportive services. In Morgantown, Bartlett Housing Solutions follows the Housing First approach and works with the School of Public Health to provide field placement experiences for students interested in addressing this public health issue.
"It's one of our most effective partnerships with the University," said Helen Panzironi, Bartlett Housing Solutions grant and resource manager, of the relationship that began nearly three years ago. "Public Health students are really a perfect fit for this field because housing is health care. They're interested in the well-being of the entire community and can see how the plight of one person can actually impact the health of the community as a whole, and why it's important to address those issues."
Cleaver, who learned about the Bartlett Housing Solutions mission from Panzironi during her pre-capstone course, knew right away that she wanted to complete her field placement experience with the organization. However, she didn't know that McVey had completed the same field experience in the prior semester, once again taking similar paths in their academic journeys.
McVey was originally drawn to Bartlett Housing Solutions for her senior year field placement experience due to its proximity to her sorority house, but the hands-on experience would be different than expected and provide much more than convenience.
"I really had no idea what I was getting myself into. I feel like I kind of happened into this just like I happened into my major and a lot of other things in my life, but this has really been one of the biggest blessings – getting to complete my internship here and then come on as full staff."
Finding a home
After they each completed their field placement experiences and graduated with a B.S. in Public Health, McVey in fall 2020 and Cleaver in spring 2021, they were offered full-time case manager positions at Bartlett Housing Solutions.
"I was so excited when we first hired Annie and then later hired Kat," recalled Panzironi. "Our case managers are some of the most focused, committed individuals I've ever worked with, and I think Public Health students are uniquely qualified because they have a big picture view. We're really getting quality people."
In their new roles, Cleaver and McVey work with clients in the transitional and rapid rehousing programs. Their support includes assistance in obtaining safe, secure housing as quickly as possible, as well as assistance with important documents like a birth certificate, employment, medical appointments and other support services.
"I love getting to help people and work in the community," said McVey of her interest in public health and her new career. "I can never say 'thank you' enough to all of the professors and my mentor at Bartlett. It's great to have the support from everyone."
Pictured at top: Bartlett Housing Solutions Case Manager Katerina Cleaver, who graduated from the WVU School of Public Health in May 2021, meets with a client about next steps in the transitional housing program.
---
-WVU-
jdw/11/17/21
CONTACT: Nikky Luna, Director of Marketing and Communications
WVU School of Public Health
304.293.1699