Commencement
May 2019 Commencement
Ceremony Information
The School of Public Health May 2019 Commencement ceremony will be:
Friday, May 10, 2019
4:00 pm
WVU Creative Arts Center
Keynote Speaker - Jan Rader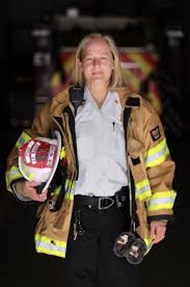 Jan Rader joined the Huntington, West Virginia, Fire Department in August 1994. Rader is the first woman to reach the rank of chief for a career department in the State of West Virginia. She holds a Regents Bachelor of Arts degree from Marshall University and an Associate's of Science in Nursing from Ohio University. She holds many fire service certifications and is also a fire and EMS instructor in the State of West Virginia.
Since November 2014, Rader has been serving as a member of the Mayor's Office of Drug Control Policy. The purpose of this task force is to address drug addiction in Huntington and the surrounding communities and create a holistic approach involving prevention, treatment and law enforcement. 
Rader recently came to national prominence after the release of the short documentary Heroin(e) by Netflix in September 2017. In April 2018, she was chosen as one of TIME Magazine's "100 Most Influential People in the World."
Additional Information:
Graduates are required to wear caps and gowns.
Tickets are NOT required and there are no restrictions on the number of guests a graduate may bring. The ceremony will last approximately two hours.
WVU has contracted with GradImages to provide quality graduation photos of each student. Proofs will be emailed to the student within 72 hours of the ceremony.
Those who choose to participate in May commencement exercises (May 10-12) must register to walk.
Registration to participate in Commencement exercises is separate from the graduation application.
Student should monitor their MIX email account and HSC websites for registration information and instructions.
Students who have successfully defended but are still awaiting ETD submission and/or acceptance are still eligible to walk.
How do I register to walk in the ceremony?
Great question! The School of Public Health Office of Student Services will reach out via email to all students who apply for graduation shortly after the application closes. Instructions on how to register for the ceremony will be provided in that email.
Regalia Orders and Assistance
Health Science Center Bookstore
304-293-4849
sm586@bncollege.com
Please remember when ordering your regalia:
BS Public Health: salmon tassel
MS Biostatistics: golden yellow hood
MPH Public Health: salmon hood
MS School Health:  light blue hood
PhD:  blue hood
Applying for Graduation
Spring/May 2019 Graduation Application:
Doctoral students are asked to select his/her committee members from a dropdown box. Note: If a committee member is not listed, the student should choose any name (does not matter who) from the list. The application will be changed administratively to reflect the correct committee when the application is approved by this office. (For added assurance, please notify Joe Andria of any corrections that need made to the list of your committee members: joe.andria@hsc.wvu.edu).
Certificate-seeking students must apply online as well.
Previous graduation applicants who have applied for previous graduation cycles (e.g. August 2018, December 2018, etc.) must reapply and resubmit the online graduation application for December 2018. Previous graduation applications are no longer valid!
Additional Steps for Graduate Students
ETD (Electronic Thesis and Dissertation) Summer Submission
Deadline: 5pm, Friday, April 26, 2019
ETD website: https://etd.lib.wvu.edu/ 
ETD info packet: https://etd.lib.wvu.edu/files/submission_information_packet.pdf 
Students are required to successfully defend their thesis or dissertation before submitting to the university library.
If your degree program requires submission of an Electronic Thesis or Dissertation, you must submit by the deadline above to be approved for May 2019 graduation/degree conferral. Students who submit after the deadline will be deleted from the May 2019 graduation list and must reapply for August 2019 graduation.
Shuttle Sheet Request Form Deadline
Graduation Eligibility
If you have questions about the successful completion of your academic requirements for graduation, or if you have concerns regarding your eligibility to walk in commencement exercises, please contact your School of Public Health academic advisor immediately. We would be happy to review your transcripts with you to make sure you have completed all requirements toward graduation.
Getting Your Diploma
Diplomas will be mailed in the weeks following degree conferral (May 12 - official May degree conferral date). Students who have no financial holds on their accounts will receive email notification to their MIX account when their diploma has shipped. Tracking numbers will not be available. Shipping times may vary. Diplomas being shipped within the United States typically takes around 7-10 business days. Those being shipped internationally can take an additional 6-8 weeks due to the customs process of some countries. 
Students who wish to pick up their diploma need to enter the Registrar's address on the graduation application:
Office of the University Registrar
PO Box 6878
Morgantown, WV 26506
Other Things to Consider
Mounty Bounty
Don't forget to check your Mountie Bounty balance! If you still have a Mountie Bounty balance 125 days after you graduate, you will be charged a $10 account processing fee. To avoid this, check your balance and either spend those funds or request a refund.
Go to mymountaineercard.wvu.edu.
Enter your WVU username and password.
View your balance from the main page.
If you have a balance, you can either spend it at participating locations or request a refund.
Additional Questions?
If you have additional questions about December Commencement, please consult your academic advisor and the WVU graduation website.
August and December 2019 Graduation Information
Details will be provided at a later date.