Welcome to the WVU Injury Control Research Center
Injury has been called the neglected disease of modern society. Injuries are the leading cause of death for the first four decades of life, regardless of gender, race, or socioeconomic status. More than 192,000 individuals in the United States die each year as a result of unintentional injuries and violence, more than 30 million others suffer non-fatal injuries and over one-third of all emergency department visits each year are due to injuries. Most events that result in injury could be prevented if evidence-based public health strategies, practices, and policies were used throughout the nation.
The West Virginia University Injury Control Research Center (WVU ICRC) maintains a specific focus on populations residing in West Virginia, and throughout the surrounding Appalachian region. West Virginia is the only state that lies entirely within Appalachia.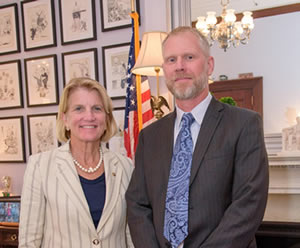 Dr. Bossarte met with Senator Capito in Washington, DC
to discuss injury prevention in the Appalachian region.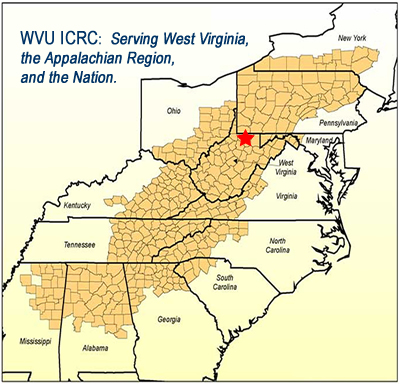 The Appalachian region manifests many socioeconomic and public health challenges including exceptionally high injury rates and several unique injury problems. Numerous injury mechanisms contribute excessively to the injury disparities in West Virginia and the surrounding region. An understanding of these mechanisms has led our Center to emphasize these injury problems in our prior and current work.
These priority areas include motor-vehicle-related injuries, unintentional drug overdoses and poisonings (largely resulting from prescription drug misuse and abuse), falls among the elderly, occupational injuries and violence, traumatic brain injury, suicide and self harm, and intimate partner violence. Through specifically addressing the underserved and disadvantaged Appalachian region and the injury problems that plague it, the WVU ICRC research has regional, national, and international, implications.