Department of Social and Behavioral Sciences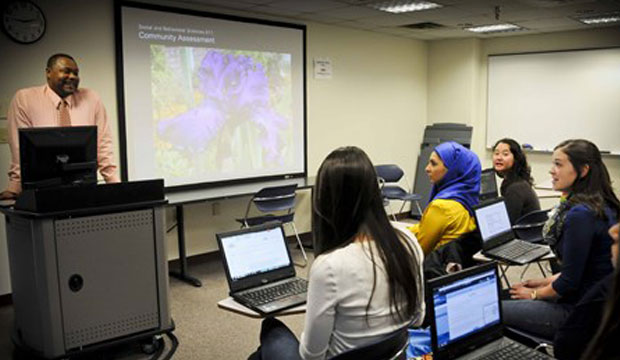 Our Vision:
Improved physical and mental health across the lifespan.
The Department of Social and Behavioral Sciences (SBHS) addresses the behavioral, social and environmental factors related to individual and population health and health disparities over the life span. We apply social and behavioral theories, models and methods to the design of interventions to prevent disease and reduce illness, increase adherence to healthy practices, and evaluate the impact of health programs.
Our Mission: To conduct inquiries and applications to achieve optimal health and reduce health inequalities in West Virginia and the global community.

Our Vision: Improved physical and mental health across the lifespan.
We achieve our mission and vision through community-engaged research, education, and service to impact population health at the state and local level in West Virginia and Appalachia through:
Policy-makers
Schools
Primary care clinics
State and local health departments
Community-based organizations
Worksites
Through these channels, SBHS specializes in intervention planning, implementation, evaluation and dissemination research in:
Tobacco and other substance abuse and misuse
Chronic disease and its risk factors
Child and adolescent health
Pursue a Career
Our graduates can be found in a variety of academic, public health and non-profit organizations, including the following diverse systems:
School systems
Health care organizations
Colleges and universities
Non-governmental organizations
Applied health research programs
Federal agencies (CDC, NIH, FDA)
State and county health organizations
Health care is the largest industry in the United States and will continue to grow. We equip our students to face the career challenges of the future in, for example:
Worksite wellness
Public health advocacy
Translating evidence-based interventions to reach audiences most in need
Nontraditional settings such as ambulatory care and out-patient surgeryclinics, home health, and other alternative delivery systems, where increased emphasis will be placed on cost-containment
We invite you to join us in meeting these challenges and encourage you to explore concurrent job posting websites in public health:
Degrees
SBS degrees are designed to enable current public health and health care professionals to enhance their skills in developing, implementing and evaluating programs to have an impact on the health of the public. In addition to Master's degrees in Public Health and School Health, the Department of SBS also provides a state of the art doctoral education in the theory and application of social and behavioral science to a select group of highly qualified and committed students who desire to transform public health.
SBS is committed to a competency-based education as defined by the Council on Education for Public Health's (CEPH) for our MPH and PhD programs and by the National Council for Accreditation of Teacher Education (NCATE) for our MS program. Delivered entirely online, the MS in School Health provides teachers-in-training with the knowledge and skills necessary to instill in school-age students the information needed to make healthy decisions regarding well-being.