Public Health student uses data expertise to advance telehealth research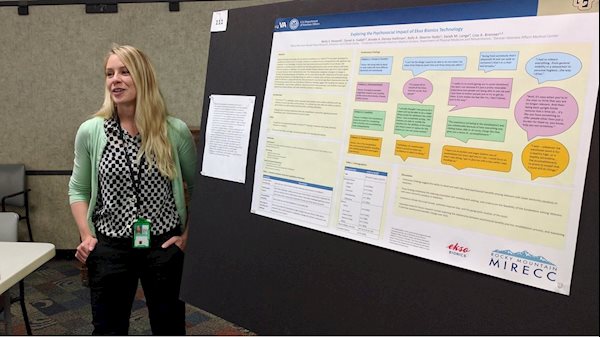 Major events – including a pandemic – can change the way we live and work. For some, it signals a time to look for new opportunities and reinvent their career. For others, like Molly Penzenik, it reinforces their chosen path.
A student in the West Virginia University School of Public Health, Penzenik was gearing up to begin the applied practice experience portion of the Master of Public Health (MPH) program when COVID-19 caused her plans to change. Her new assignment turned out to be a perfect fit and reinforced her decision to focus her career on helping others through public health.
"I think the pandemic has strengthened my belief in the importance of our work as public health professionals, particularly when it comes to critical evaluations of our systems and solutions to healthcare barriers – both through policy review and through research and data analysis," said Penzenik.
Department of Health Policy, Management and Leadership Associate Professor Steve Davis, Ph.D., started piloting an intervention program that uses telehealth during the fall of 2019, prior to the arrival of COVID-19 in West Virginia. Participating in the evaluation of Davis's program was Penzenik's top choice when shifting from an in-person to online practicum experience. With a focus on Medicaid telehealth policy, Penzenik's concentration in Biostatistics made the program's emphasis on data particularly interesting.
"I have a lot of experience using the REDCap database from my job, and so I had the opportunity to put my familiarity with that data collection tool to use," said Penzenik of her current work with the U.S. Department of Veterans Affairs. "I was able to consider the study's design and help to identify potential areas for improvement around data capture and coding of missing data, and potential solutions around handling of missing data."
Penzenik's interest in working in public health with data started when she worked as a student assistant in the University of Colorado School of Medicine Department of Neurology. Working alongside multiple sclerosis researchers, she learned the process of examining diseases and negative health outcomes, the cause of disease, mitigating risk factors and treatment.
"We have all this information available to us, and we have such an advanced understanding of our biology, but I think we have a long way to go in contextualizing our knowledge into a systemic approach of problem solving," she said. "Public health, especially from a data and statistical perspective, is how I want to contribute to that process."
Following her audit of patient reported outcomes, Penzenik's attention shifted to conducting telehealth policy literature reviews. Although the program began before COVID-19 emerged, the rapid changes it caused in telehealth policy became an important focus. Her review, which was completed with the assistance of co-author Jonathan Herczyk, who is a student in the Ph.D. in Public Health Sciences program, and support and guidance from Davis, was selected for presentation at the 2020 West Virginia Rural Health Conference. The policy brief was also included in a white paper advocating for the expansion of telehealth services in West Virginia.
"The COVID-19 pandemic has highlighted the imperative of healthcare access through expanded telehealth, as well as the broader scope of healthcare access for communities that have been historically underserved or experience barriers to routine healthcare," said Penzenik.
Supporting high risk and underserved populations, like those who could benefit from expanded telehealth services, is also of particular interest to Penzenik and one of the reasons she was drawn to Davis's program. Through her experience, she gained a better understanding of how policies impact access to healthcare for these vulnerable groups – knowledge that will remain with her as she continues in her career.
"I am completing my MPH in order to expand the kind of work I am able to do in the field of veteran mental health and suicide prevention research, and my commitment to that remains strong," she said of her current work with the U.S. Department of Veterans Affairs. "After I graduate next spring, my plan is to continue to support the many research and operational projects as a research data analyst at the VA."
In recognition of her accomplishments, Penzenik was also named the WVRHA Outstanding Rural Health Student of the Year.
Pictured at Top: Master of Public Health student Molly Penzenik participates in a U.S. Department of Veterans Affairs Research Week poster session. Photo courtesy of Penzenik.
-WVU-
jw/10/09/20
---
CONTACT: Nikky Luna, Director of Marketing and Communications
School of Public Health
304-293-1699; nikky.luna@hsc.wvu.edu