WVU expert provides global training in occupational health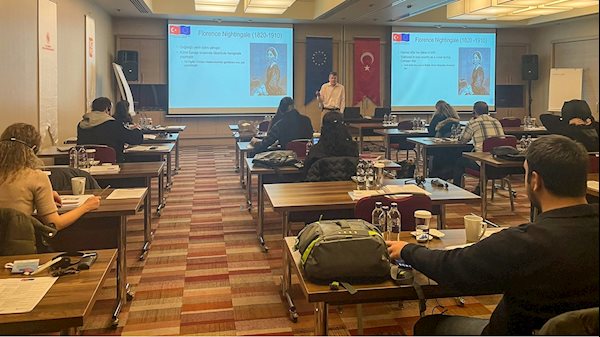 In the past decade, the rate of occupational injuries in Turkey has increased. To help combat this growing issue, an expert from West Virginia University has traveled to the nation's capital city to provide training in occupational health and safety.
Christopher Martin, M.D., director of the WVU Health Sciences Global Engagement Office, director of the Occupational Medicine program and professor in the School of Medicine and School of Public Health, visited Ankara, Turkey, this month to present multiple in-person and virtual weeklong sessions focused on occupational epidemiology.
Occupational epidemiology examines health outcomes among populations of workers related to exposures in the workplace, including chemical, biological, and physical agents.
Dr. Martin's three weeklong sessions marked the second of a series of training opportunities presented by the Centre for Labour and Social Security Training and Research (ÇASGEM) EU Project titled "Technical Assistance for Strengthening Training and Research Capacity of ÇASGEM."
"This opportunity arose because of the close relationship our Division of Occupational Medicine has had with Turkey," Martin said. "We have hosted three visiting physicians over the past 20 years and presented numerous sessions in various venues there during this period. Through numerous visits, I have personally witnessed the tremendous growth and development of this important nation. My time there was very professionally rewarding as I learnt about common challenges and networked with new colleagues. Of course, the hospitality and kindness shown to me will be a lasting memory."
Established in 1955, the Centre provides occupational health and safety training for employers and employees aimed at providing safe working conditions, preventing probable work accidents and injuries and minimizing occupational disease to improve the quality of work life in Turkey.
The EU Project, a three-year capacity-building project co-financed by the European Union and Turkey, supports employment policymaking and implementation processes in the occupational health and safety field. With an overall goal of providing training activities for 1,700 people, the EU Project had reached 1,720 trainees in 75 training sessions to date.
Photo: Dr. Christopher Martin presents a session focused on epidemiology as part of the Centre for Labour and Social Security Training and Research (ÇASGEM) EU Project.