WVU School of Public Health to graduate first cohort of health services management and leadership program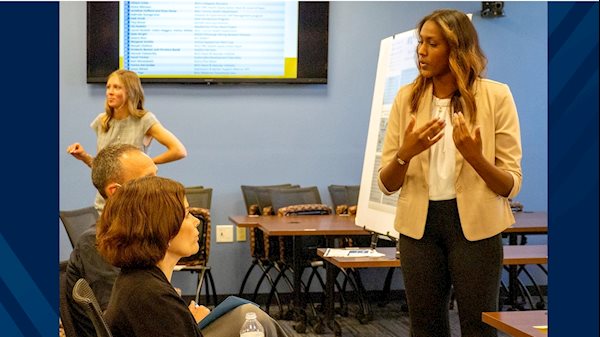 The first undergraduates of the Health Services Management and Leadership program through the West Virginia University School of Public Health will walk the stage at May 2022 commencement.
Launched in 2020 to meet the increasing demand for leaders in healthcare, the program will equip five first-time graduates with a Bachelor of Science in Health Services Management and Leadership. Graduates will walk the stage with an in-depth understanding of healthcare, organizational and oversight tools, and skills necessary to manage healthcare facilities.
"As the need for healthcare leaders continues to grow, our students will be equipped to meet that growth," said Audra Hamrick, director of undergraduate studies for the School of Public Health. "Our students have had the opportunity to learn from top healthcare leaders in the classroom, then alongside those leaders during their internships. Their overall educational experience has helped them articulate personal management philosophies and learn to manage basic human, fiscal, and physical resources needed for accomplishing organizational goals.
"We couldn't be prouder of this first cohort and are excited for the continued growth of this program."
Haley Cothern, soon-to-be graduate, says the new program offered not only a sense of belonging, but also a bright future in healthcare.
"My ultimate career goal is to promote team service through motivation and engagement, influencing employees to focus on both patient care and treatment," said Cothern. "I knew with the dedication and support from my mentors that I could thrive here and continue to do so in my future career within a healthcare organization."
Similar to the Bachelor of Science in Public Health, students completing a B.S. in HSML must complete a field placement and capstone experience as their culminating coursework. This involves an internship of a minimum of 125 hours in a health agency where they use their learned skills in real-world scenarios.
According to Cothern, her field placement with the Quality Outcomes team at WVU Medicine J.W. Ruby Memorial Hospital gave valuable insight into the importance of high-quality healthcare.
"I was able to be a part of a Peak Health project, which will be WVU Medicine's new health insurance program offered to all employees and their dependents in the upcoming year," said Cothern. "I evaluated data, identified performance metrics and learned that quality is truly integrated in various hospital and clinic measures to ensure the best care is provided to all patients."
Yara Alamin, another member of the 2022 graduating cohort, completed her field placement with the Rare Disease Advisory Council, working closely with Erik Carlton, senior associate dean for academic and student affairs. Alamin, who participated in council meetings and various research activities, said the experience allowed her to "work with incredible people in an effort to enhance the quality and accessibility of care for those living with rare diseases in West Virginia."
"This experience has provided me with the opportunity to work with people from many walks of life and professions," she added. "I had a great time seeing what Dr. Carlton does outside of the classroom and the many ways he gives back to his community; without his guidance throughout this experience, I don't believe I would be confident enough to say that my leadership skills have improved, and I am excited to see what the future holds."
For many students like Cothern and Alamin, the undergraduate degree is a stepping stone into the Master of Health Administration, another new program that's also seeing its first graduates in May.
"Through all my experiences leading up to this point, I am quickly reminded why I started—to be able to give back to my community by leading and supporting the individuals who are delivering patient care, while simultaneously ensuring that all patients receive the care they deserve," said Cothern. "The Master of Health Administration program and the mentors here at WVU in the School of Public Health will help me do just that."
Pictured above, top to bottom: Yara Alamin presents her capstone poster to Sr. Associate Dean Sarah Woodrum and Associate Professor Christiaan Abildso during the Public Health Senior Capstone Showcase on April 29 (WVU Photo/Nikky Luna); Haley Cothern stands alongsisde Sr. Associate Dean Erik Carlton as she is inducted into Upsilon Phi Delta (UPD), the honor society for healthcare management and policy on April 28 (WVU Photo/Jennifer Shephard); Yara Alamin, alongside Sr. Associate Dean Carlton, as she is inducted into UPD on April 28 (WVU Photo/Jennifer Shephard).
---
-WVU-
CONTACT: Nikky Luna, Director of Marketing and Communications
WVU School of Public Health
304.293.1699