ICYMI: Master of Health Administration program, WVU Medicine hosted Grand Rounds: Fostering a 'fear-less' healthcare enterprise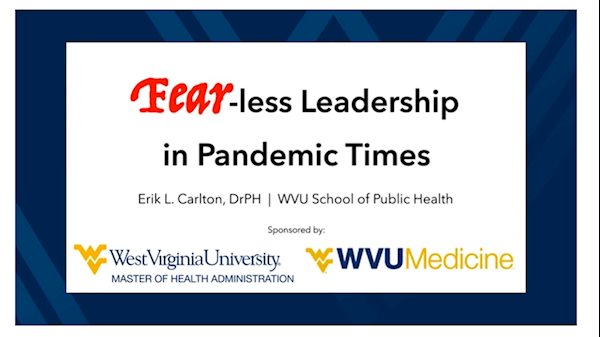 The West Virginia University Master of Health Administration program and WVU Medicine hosted a virtual Administrative Grand Rounds, "Fear-less Leadership in Pandemic Times," on Tuesday, Nov. 17.
Presented by Erik Carlton, DrPH, associate dean for professional programs and MHA program director in the School of Public Health, the webinar focused on three key components that have a significant effect on personal and organizational performance: fear, power and control. A recording of the webinar can be found here.
The event was the first of an ongoing Administrative Grand Rounds series hosted by the School of Public Health MHA program, which will feature a variety of speakers, topics and partners throughout the year.
"We're grateful to be able to partner with WVU Medicine on this inaugural event, which we expect to become a signature event for healthcare leaders, providers, educators and students," Carlton said. "Moving forward, we will host these regularly and look forward to partnering with other healthcare organizations through the state and region as we do so."
About the Master of Health Administration Program
The Master of Health Administration program, offered by the School of Public Health, is the premier professional program for those seeking to lead the health systems of the future. Focused on the organization, delivery and management of healthcare and public health systems and services, this program will equip you with the skills and insight needed to lead in a variety of healthcare settings, including hospitals, medical group practices, healthcare consulting firms and health departments. Full- and part-time and online and residential options are available, as well as other flexible features. Learn more here.
About WVU Medicine
WVU Medicine's mission is "to improve the health of West Virginians and all we serve through excellence in patient care, research, and education." It is the state's largest health system – the West Virginia University Health System – and largest private employer, comprised of 14 hospitals and five institutes. The WVU Health System also provides management services to six hospitals and medical centers throughout the region. Learn more by visiting WVUMedicine.org
---
CONTACT: Nikky Luna, Director of Marketing and Communications
WVU School of Public Health
304.293.1699