Longtime healthcare leader inducted into honor society for health administration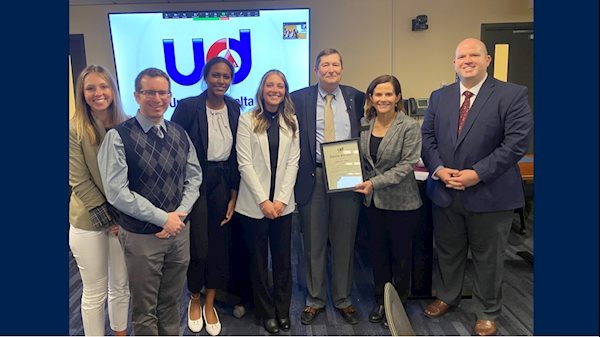 A retired executive with more than four decades of leadership experience has been recognized for his distinguished career in healthcare.
J. Thomas "Tom" Jones, former president and CEO of the West Virginia University Health System, was recently inducted as an honorary member into Upsilon Phi Delta, the national honor society for health administration. The recognition was facilitated by the West Virginia University School of Public Health following Jones' guest lecture during the Master of Health Administration professional development seminar.
"Induction into Upsilon Phi Delta is certainly a highlight of my career in healthcare and an incredible honor," said Jones, who retired from the WVU Health System in 2014 and currently serves as WVU Board of Governors chairman. "It is very special to receive this honor from the WVU School of Public Health since I am a graduate of West Virginia University and had the honor of serving as CEO of the West Virginia University Health System for 12 years."
Alongside being inducted into Upsilon Phi Delta, Jones acknowledged another career highlight.
"Fifty years ago, I was sitting in a classroom like this, and I never dreamed in my wildest imagination that 50 years later I'd be lecturing an MHA class," he noted at the start of his lecture.
Jones, who has previously served as chair (2014-2017) of the School of Public Health's Visiting Committee (now Leadership Council), received an undergraduate degree in accounting from WVU in 1971 and a master's degree in hospital administration from the University of Minnesota in 1973.
"Many things stand out to me with today's students in healthcare administration in the School of Public Health," Jones said. "They are ready to make a difference in shaping the healthcare system of tomorrow and they are confident they can make a difference. They also recognize our system has to change and must be patient centered."
During his time as president and CEO of the WVU Health System (2002-2014), now known widely as WVU Medicine, the system expanded from two hospitals to seven, spanning the Eastern Panhandle to Parkersburg and making it the state's largest health system. Jones' previous roles include COO of Wheeling Hospital, CEO of the Genesis Health System in Huntington; and CEO of St. Mary's Hospital in Huntington.
Included among his accomplishments: recognized as one of the 10 Most Influential Leaders in West Virginia by West Virginia Executive; recipient of the Lornelle White Lifetime Achievement Award in Business from The State Journal; and celebrated as a Most Distinguished West Virginian by West Virginia's Governor. Additionally, he is a Lifetime Fellow of the American College of Healthcare Executives.
When asked about what advice Jones has for future healthcare leaders, he shared three takeaways: "First, always put the patient first in everything you do. Second, quality is critically important. Third, do not be afraid to challenge the status quo and be willing to make changes where needed."
"It was an honor to have Tom Jones speak with our students during our professional development seminar, which is designed to give our MHA students engagement opportunities with top-notch industry leaders," said France Weaver, MHA program director and associate professor in the Department of Health Policy, Management and Leadership. "I'm not only grateful to Tom for sharing his time and expertise, but am also appreciative of David Woodrum, MHA executive-in-residence, who made Tom's guest lecture and UPD induction possible."
The mission of Upsilon Phi Delta, administered by the Association of University Programs in Health Administration (AUPHA), is "to recognize, reward, and encourage academic excellence in the study of healthcare management and policy." West Virginia University has both undergraduate- and graduate-level chapters.
"As the Greek letters indicate, Upsilon Phi Delta reflects a strong force for good or for change, and we expect our students who graduate from our Master of Health Administration and B.S. in Health Services Management and Leadership programs to be a strong force for good in this world, especially in healthcare and within our communities," said Erik Carlton, senior associate dean for academic and student affairs and an inaugural member of the WVU Chapter of Upsilon Phi Delta. "Tom Jones has been an exemplary leader throughout his distinguished career in healthcare, and I can think of no one more deserving of this honor."
---
-WVU-
CONTACT: Nikky Luna, Director of Marketing and Communications
WVU School of Public Health
304.293.1699; nikky.luna@hsc.wvu.edu