PhD candidate travels the nation to represent WVU School of Public Health and chronic disease research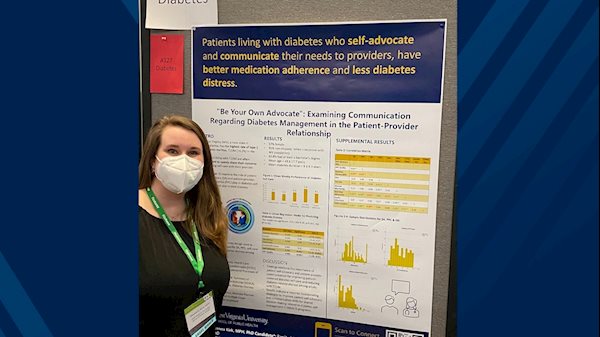 West Virginia University School of Public Health doctoral student Brenna Kirk is authoring groundbreaking public health research and delivering it to diverse audiences at events across the country.
A third year PhD student, Kirk is spearheading research on patient self-advocacy and communication in diabetes care and management. As she works with professor and mentor Ranjita Misra to gather preliminary data, she's using what they've learned to educate and brainstorm with audiences at events like the Society of Behavioral Medicine Annual Meeting in Baltimore, Maryland.
WVU research leading to major strides in diabetes management in rural America
With the goal to improve patient outcomes and experiences in diabetes self-management, Kirk says the results of her dissertation will help improve the quality of life for diabetic patients in rural America.
"The hope is that through [our] program, patients can learn skills in advocating for their needs, setting goals, and having effective discussions with providers," Kirk said. "It's nice being able to present [this information] to a wider audience, but also having people come up and ask questions helps me think through other perspectives and learn from expertise that will guide us as we move forward."
As mentorship and training coordinator for the organization's student-led group, Kirk also spearheads professional development opportunities and events for Society of Behavioral Medicine members. As part of her leadership role, she planned nationwide webinars and moderated a mentor/mentee workshop for the conference.
"It was great to finally meet the people I've been working with [virtually] in this role," she said. "It's so important to create connections with people nationally and internationally, and WVU has taught me to always keep my eyes open for those opportunities."
At the American Academy of Health Behavior conference in Key Largo, Florida, Kirk presented a poster she co-authored along with Misra and Keith Zullig, chair and professor of the Department of Social and Behavioral Sciences. Together they researched the perceptions of face masks among college students during the COVID-19 pandemic.
In a separate, virtual conference for the Society of Public Health Education, Kirk shared a poster presentation and co-chaired a student events group that focused on professional development and networking. As co-chair, she helped plan and moderate mentoring and speed networking events between members.
"We had a mix of faculty, student members and professionals from nonprofits, health departments and other public health sectors," said Kirk. "We also hosted a health equity workshop and game show in which we recruited a panel of speakers with diverse experience in health equity."
WVU offers 'big opportunities with a small town feel'
Kirk says WVU faculty and support have been key in encouraging her to explore each and every opportunity she's been a part of.
"I'm so grateful to the school for making these opportunities possible," she said. "It's easy to doubt yourself and have imposter syndrome, but thankfully because of my mentors at WVU who push me and encourage me, I continue to submit abstracts, network and put myself out there."
Kirk points to her father and grandmothers' battles with type 2 diabetes as the path that led her to pursue public health. With hopes to remain in academia after graduation, Kirk says her ultimate goal is to improve not only the health of others but also their quality of life.
"This field is full of passionate people who really want to work towards the goal of achieving equitable outcomes," she said. "We want people to not only live longer but also to live healthier and more fulfilling lives."
It's through WVU, she added, that she'll be able to turn those dreams into a reality.
"When I was choosing the school to pursue my education, I was looking for a program with not just a good education, but where I felt I could really thrive," said Kirk. "I felt that immediately at WVU—and I still do. WVU offers big opportunities with a small town feel. I don't think I would have had these experiences and opportunities that I've had if I went anywhere else."
Pictured above, top to bottom (submitted photos): Kirk presented "Be Your Own Advocate: Examining Communication Regarding Diabetes Management in the Patient-Provider Relationship" at the Society of Behavioral Medicine Annual Conference in Baltimore, Md., April 6-9; Keynote slide, SBM Annual Conference; SBM mentor wrap-up session; Society for Public Health Education (SOPHE) Annual Conference Meet and Greet, coordinated and moderated by Kirk; Kirk and her husband in Key Largo.
---
-WVU-
CONTACT: Nikky Luna, Director of Marketing and Communications
WVU School of Public Health
304.293.1699