Public Health professor appointed to advisory board addressing critical state transportation policy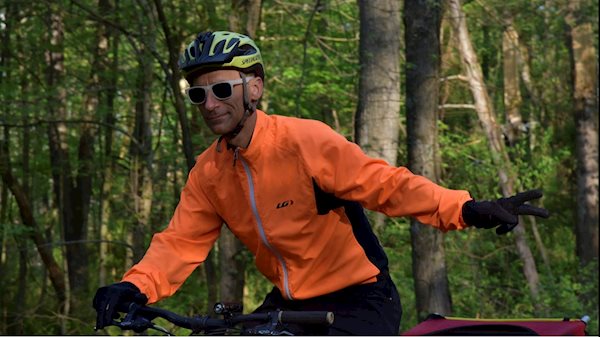 Christiaan Abildso, Ph.D., M.P.H., an assistant professor in the WVU School of Public Health's Department of Social and Behavioral Sciences, was recently appointed to the Complete Streets Advisory Board by West Virginia Governor Jim Justice.
This newly created board will be responsible for implementing the Complete Streets Act, or Senate Bill 158 passed in 2013, which centers on improving the state's transportation infrastructure in terms of safety, access and mobility for all travelers. The Act ensures that approved transportation projects receiving federal or state funds provide reasonable accommodations for all users – from motorists, pedestrians, bicyclists, persons with disabilities, older adults and children to commercial and public transportation vehicles and their passengers.
"We all use streets every day – whether for transportation or recreation, in a wheelchair, on a bike, in a car or bus, or on our own two feet," Abildso said. "All streets, regardless of how old we are or how we use them, should be safe for us. Too many roads are designed only for vehicles, however, without regard for other users. They are incomplete.
Abildso says our streets serve more than just a transportation purpose.
"They provide a place for children to play, a sense of community, a place to congregate, and are a sign of a strong economy," he said. "Investing in streets in a comprehensive way can attract business, create a sense of place, and allow senior citizens and young children a sense of independence to explore their world when driving is not an option."
The board will provide recommendations to the WV Division of Highways and to counties and municipalities on updating design guidance, providing educational opportunities and creating new measures to track the success of multimodal planning and design.
Tom Smith, WV Transportation Secretary and Division of Highways Commissioner, will serve as board chairman. Other members of the committee represent the American Planning Association, the Eastern Panhandle Transit Authority, the WV American Association of Retired Persons (AARP), the WV Healthy Lifestyle Coalition, the WV Statewide Independent Living Council, the WV Trucking Association, each congressional district and a state association of municipalities.
Abildso teaches courses in program evaluation and his research focuses on the social-ecological determinants of physical activity, including policy and the built environment. He also serves as program director of research and evaluation for the School's Health Research Center.
In addition to his teaching, Abildso is active in local and state active transportation policy decisions, pedestrian and bicyclist safety, and national research on physical activity in rural areas. He has served the Morgantown area on city‐level boards and commissions including the Pedestrian Safety Board and Bicycle Board, the county‐level Metropolitan Planning Organization through service on its Citizens Advisory Committee, and the WVU campus through a pedestrian safety committee. Abildso also serves on the local Rail Trail Conservancy board and as vice president of the state‐level WV Connecting Communities (WVCC) board. The WVCC has been responsible for holding the first two WV Bicycle Summits in 2016 and 2017, helping West Virginia improve in the League of American Bicyclist's "Bicycle Friendly State" rankings to from dead last (50th) in 2008 to 37th in 2017.
Main photo by Brian Ricketts