"Views from the Front Porch" focuses on physical activity in rural areas
Series is hosted by WVU Public Health professor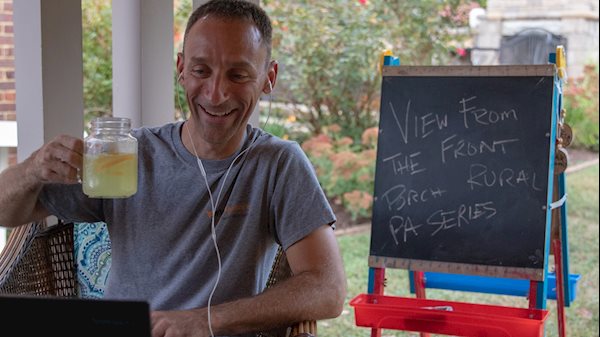 A native of Morgantown and a West Virginia University graduate, beloved actor and comedian Don Knotts hosted a skit named The Front Porch on his 1970s variety program The Don Knotts Show. During the segment, Knotts and his guest sat in rocking chairs on the front porch discussing their philosophies. Now, there's a new sheriff in town.
Nearly 50 years later, the setting is the same but the guests are discussing a different topic – physical activity in rural America. Hosted by WVU School of Public Health Associate Professor Christiaan Abildso, PhD, Views from the Front Porch: Rural Physical Activity is a new series focusing on the research in rural areas about behavior settings and environments on physical activity.
At the 2016 Active Living Research Conference in Clearwater, Fla., Abildso and five colleagues hosted a roundtable titled "Lessons from my front porch: Social determinants and rural America." From their discussion, a rural physical activity workgroup formed facilitated by the Physical Activity Policy Research Network Plus (PAPRN+), which is funded by the Centers for Disease Control and Prevention, and a "Call to Action" paper was published in the Journal of Public Health Management and Practice (JPHMP). In the paper, the group described the uniqueness of the findings of rural research and concluded with eight suggestions for action.
In the new Views from the Front Porch series, Abildso and his guests discuss the work that has resulted from the recommended actions. Along with the interview, a blog post written by Abildso can be found on the JPHMP Direct website (jphmpdirect.com), a companion site to the Journal of Public Health Management and Practice.
"My colleagues from around the U.S. kept talking each year about the lack of evidence about rural places and physical activity," said Abildso. "Much of what we were seeing was coming from very urban places that, based on our experience, needed to be adapted to have impact in rural America. For example, street redesigns to convert a vehicle lane to a bike lane may work in protecting on-street bike riders on urban streets with 3-4 lanes going in each direction. But, how would that look in a rural town that might only have a 2-lane road?"
For his first interview, Abildso discussed the concept called Play Streets with M. Renée Umstattd Meyer, PhD, an associate professor in the Robbins College of Health and Human Sciences at Baylor University. Play Streets is a great example of adapting to fit the rural context. In urban settings, the main street of a neighborhood (of Chicago, for example) was closed for the event that brought people out to the street to play. However, in rural places, they couldn't close the main street so they hosted the event in a church parking lot or public park.
In the coming months, the podcast will feature rural health experts Michael Edwards, PhD (NC State University), Cindy Perry, PhD (Oregon Health & Science University), Noah Lenstra, PhD (UNC Greensboro), Jeff Whitfield, PhD (Centers for Disease Control and Prevention), Lauren Jacobs (University of Maine) and Lisa Charron, MPH (University of Wisconsin-Madison).
-WVU-
jw/11/14/19
CONTACT: Nikky Luna, WVU School of Public Health Director of Marketing and Communications; 304.293.1699, Nikky.Luna@hsc.wvu.edu