Recent graduates follow passion for global health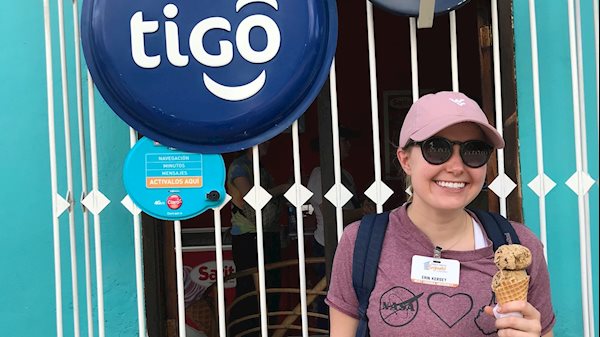 Many students choose to study public health because they want to make a difference in the world. For some graduates, that may include returning to their hometown to help patients at the local hospital navigate the healthcare system. For others, it might mean traveling the United States to provide expertise during natural disasters. For two recent graduates of the West Virginia University School of Public Health, making a difference in the world will take them across the globe.
Both members of the Class of 2020, a class that has seen a unique set of challenges, Erin Kersey and Avery Lyons are set to tackle pressing challenges in Africa while on assignment with the Peace Corps. Although their dates of departure have been suspended due to COVID-19, they are still excited to start their service as soon as it is safe to resume volunteer placements.
Kersey will be traveling to a country that is not unfamiliar with a virus outbreak, Sierra Leone. After fighting Ebola for nearly two years, the World Health Organization declared the deadly virus eradicated from Sierra Leone in March 2016. Now, just four years later, COVID-19 was confirmed to have reached the region in March 2020. The West African nation is also still feeling the effects of its nearly 10-year civil war that ended in 2002. These times of unrest have taken on a toll on the country's education system.
This is not the first time Kersey has traveled outside the United States to help our world's vulnerable citizens. She first became interested in applying for the Peace Corps after traveling to Honduras with the WVU Public Health Chapter of Global Brigades.
During her placement in Sierra Leone, Kersey will be teaching secondary English education and managing an after-school program focused on girls' empowerment. And her experience in the School of Public Health has prepared her well for this assignment. In addition to her Public Health courses, Kersey completed her undergraduate field placement experience with Girls on the Run of North Central West Virginia, an after-school program for young girls.
"My education and experiences have taught me that a comprehensive understanding of 'community' is needed in order to create sustainable development, both locally and globally," she said. "In the Peace Corps, I will integrate myself into a vastly new and different community. This will require a level of cultural humility and respect that is vital in global service."
Education is the Peace Corps' largest program area, and it's also a fundamental social determinant of health. Programs like the one Kersey will be involved with will help promote health equity and advance public health in the region.
Like Kersey, Lyons will also be promoting health during her volunteer experience.
Although she had no intention of applying for the Peace Corps program the day she submitted her application, an opening in Rwanda, a country she's always wanted to visit, felt like destiny.
"My first interest in public health is global health. My second interest, the one I feel is my life's calling, is maternal and child health," said Lyons. "I was browsing Peace Corps openings with no intention of applying yet when I saw a listing for a 'Maternal and Child Health Educator' that was going to start a few months after my graduation; it felt like fate."
In the future, Lyons wants to earn her master's degree, but she knew she wanted to gain more experience working with mothers and families and serve communities directly first. During her Peace Corps assignment, she'll be doing just that.
Maternal and child health educators in Rwanda – a country that has made great improvements in reducing child and maternal mortality rates in the past 20 years – work with the First 1,000 Days Health project. Working primarily with the Community Health Center, volunteers implement nutrition, sanitation, food security, health education and general public health principles. Working with volunteers and community health workers, the First 1,000 Days project is part of the Government of Rwanda's emphasis on behavior change theory, community empowerment and sustainability.
In addition to maternal and child health, Lyons will have the opportunity to work with the community on projects related to gender equality, HIV/AIDS, sexually transmitted infection prevention, molarity mitigation and food security.
As she awaits her assigned dates to serve in Rwanda, Lyons is still making the most of her time and following her passion for helping others – just a little closer to home.
"Over the summer, I will be serving as an AmeriCorps summer member in West Virginia so that I can work on anti-poverty initiatives where I am needed most at the moment."
-WVU-
jw/06/08/20
---
CONTACT: Nikky Luna, Director of Marketing and Communications
School of Public Health
304-293-1699; nikky.luna@hsc.wvu.edu