School of Public Health faculty honored for service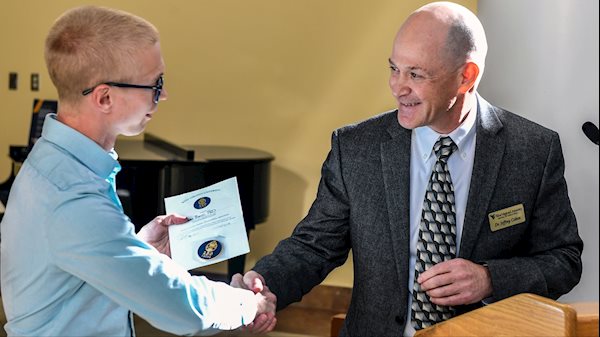 As part of the School of Public Health's celebration of the 150th anniversary of West Virginia University, two distinguished faculty members were recognized for their hard work and dedication to furthering the mission of the School. Dean Jeffrey Coben presented Drs. Adam Baus and Christiaan Abildso (in absentia) with Celebration Coins at the 150th event on November 10, as a token of appreciation for members of the University who go above and beyond their daily work.
Dr. Adam Baus joined the WVU Office of Health Services Research in 2003 and currently serves as assistant director, in addition to his role as research assistant professor in the Department of Social and Behavioral Sciences.
"Adam is dedicated to improving healthcare for all West Virginians," Dean Coben remarked. "He has an undeniable track record of success and helps make the School of Public Health a warm and welcoming environment."
Dr. Christiaan Abildso joined the School in 2013 and is an assistant professor in the Department of Social and Behavioral Sciences and program director of research and evaluation for the Health Research Center. He was recently awarded a Big 12 Faculty Fellowship.
"Christiaan is dedicated to spreading the message of public health through his research, teaching and community outreach," Dean Coben shared. "He is a great resource for our students and treats his colleagues as equals. His positive attitude is contagious."
Only 150 copies of the Celebration Coin were created—one for each year of WVU's existence. The Coins have been awarded to faculty and staff at WVU who uphold the values of service, curiosity, respect, accountability and appreciation. Recipients of the Celebration Coin were nominated by their peers.