School of Public Health recognizes top students, faculty, staff and community partner, celebrates 'firsts'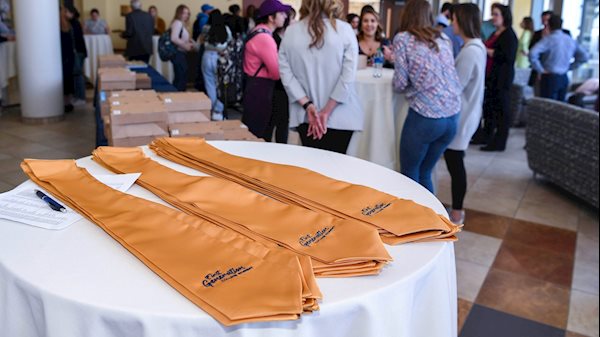 In keeping with the annual tradition of recognizing its outstanding graduating students and exemplary faculty, staff and community partners, the West Virginia University School of Public Health held its annual year-end awards ceremony on Thursday, April 28, in the Health Sciences Center Fukushima Auditorium.
President Gordon Gee paid a surprise visit at the beginning of the event, congratulating the awardees while affirming the important role of public health and sharing remarks of appreciation for Dr. Linda Alexander, former senior associate dean for academic and student affairs, who recently accepted the role of chief academic officer for the Association of Schools and Programs of Public Health.
"She's going to be the chief academic officer of the association, which will really make an enormous difference," Gee said of Alexander's new role. "It will be a great benefit to the profession ... and, most importantly, a great tribute to our university that we have been able to have you be part of our team."
In addition to honoring awardees, this year's event provided an opportunity to celebrate some "firsts" for the School, including recognizing members of the first graduating cohorts of the health services management and leadership and Master of Health Administration programs and the induction of 18 inaugural members, including two Health Policy, Management and Leadership faculty members, into Upsilon Phi Delta, the honor society for healthcare management policy.
To kick off the presentation of awards, two 2021 WVU Value Coin recipients, Beth Morrison and Caroline Groth, "paid it forward" by presenting 2022 coins to their selected recipients: Jennifer Sherrod and Erik Carlton, respectively.
"These individuals go above and beyond to make our university community a better place by living our core values of service, curiosity, respect, accountability and appreciation," said Scot McIntosh, assistant dean for student affairs.
During the event, many others were recognized, including: 18 first-generation college students; 22 B.S. students who will graduate with honors; the leadership team of Delta Omega and eight Delta Omega inductees, including Honorary inductee Jan Radar (who was unable to attend); Outstanding Community Partner awardee, Lori Brooks; Student Association of Public Health officers, including President Aidan Davis, who presented two outstanding teaching awards; and 13 departmental and individual student awardees.
The event ended on a bittersweet note as Dean Jeff Coben congratulated all awardees and invited Alexander back to the podium for the presentation of a special gift, on behalf of the School.
"It's been a wonderful opportunity for me to work with Linda," Dr. Coben said. "It's really been one of the highlights of my career to be able to work with [her]."
After expressing how much the event reminded her of what she truly loves about being a part of the WVU School of Public Health – the faculty and wonderful students – Alexander encouraged everyone to "bloom where you're planted" and "always leave a place better than what it was when you found it."
To view and download photos from the event, visit the School of Public Health SmugMug gallery page.
Following is a comprehensive list of 2021-2022 awardees and inductees:

2022 WVU Value Coin Recipients
Jennifer Sherrod
Erik Carlton, DrPH
Gamma Mu Chapter of the Delta Omega Honorary Society Inductees
Inaugural Upsilon Phi Delta Inductees
Graduate (MHA)
Rachel Baker
Sydney Ballard
Lara Brandfass
Michelle Coben
Melanie Dempsey
Mitchell Gulan
Ethan Feldmiller
Morgan Henson
Nicholas McCardle
Allie Townsend
Melissa (Missy) Yeso
Undergraduate (B.S. in HSML)
Yara Alamin
Haley Cothern
Haley Feldmeier
Samantha Palfreyman
Anna Sellaro
Faculty (student-nominated):
Outstanding Community Partner Award
Excellence in Teaching Awards (selected by the student body)
Departmental and Individual Student Awards
SueAnn Woods, Promising Public Health Investigator Award
Ranyah Abou-Chahine, Junior Public Health Investigator Award
Gabriele Youngerman, Junior Public Health Practitioner Award
Yara Alamin, Junior Pioneering Spirit Award
Imani Carey, Promising Public Health Practitioner Award
Sydney Durrah, Outstanding B.S. in Public Health Award
Haley Cothern, Outstandaing B.S. in Health Services Management & Leadership Award
Kaitlyn Rupert, Ruth E. Kershner Community Service Award
Steven Rollins, Biostatistics Student Award
Alika Lopatka, Epidemiology Student Award
Lara Brandfass, Health Policy, Management and Leadership Student Award
Miranda Aman, Occupational and Environmental Health Sciences Student Award
Corrine Day, Social and Behavioral Sciences Departmental Award
Pictured above, top to bottom: Public Health students, faculty and staff mingle ahead of the ceremony during the lunch reception (First-Generation stoles lay on the table, ready for pick-up by each graduating First-Gen student); Asst. Dean Scot McIntosh welcomes attendees; Dr. Linda Alexander and President Gordon Gee take a selfie; SAPH President Aidan Davis shares remarks. (WVU Photos/Jennifer Shephard)
---
-WVU-
CONTACT: Nikky Luna, Director of Marketing and Communications
WVU School of Public Health
304.293.1699