School of Public Health students volunteered at Save a Life Day in Monongalia County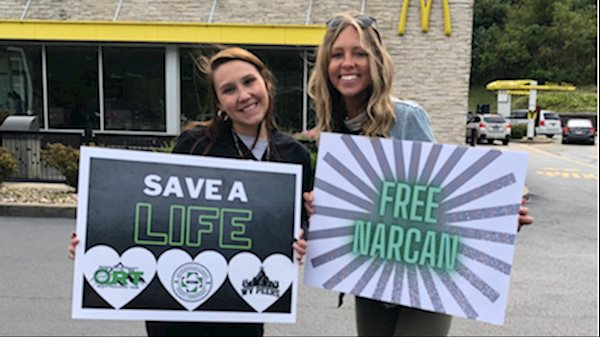 West Virginia University School of Public Health students volunteered at Save a Life Day that was held on Saturday, Sept. 25 at 12 different locations in Monongalia County. During this event, the Monongalia County Quick Response Team (QRT) members and volunteers gave away free naloxone, or Narcan, which reverses the effects of an opioid overdose, and administered Narcan training.
Save a Life Day was a Monongalia County community event promoted by School of Public Health Delta Omega, an honorary society for graduate students in public health. Delta Omega worked with the Monongalia QRT to plan and promote this event to not only public health students but also to the University as a whole.
Ten Delta Omega graduate students and two School of Public Health undergraduate students volunteered at this event to train and educate people to help save lives. In addition to providing training and education, another objective was to reduce the stigma around the opioid epidemic and provided numerous individuals with a potential lifesaving medication.
"The goal of this event was to provide members of the community with knowledge about naloxone, its uses, how to obtain it, and how to administer it," Hannah Layman, second year PhD student in Public Health Social and Behavioral Sciences, said.
Naloxone is applied in the nasal passages as a nose spray and is easy for anyone to administer. Naloxone training has been a key component of the Monongalia County QRT, which formed in the spring of 2019.
"This event was held because members of the Monongalia County QRT believe it is vitally important to get naloxone and information on how to administer it out to the public," Mary Wade Burnside, public information officer, Monongalia County Health Department said. "Not only can someone with naloxone help a friend or stranger who is suffering from the effects of an opioid overdose, but it can also be used on children who might get into their parents' medicine cabinet or individuals with memory issues who take too much of their prescription medications. Naloxone is safe to use and is not harmful to someone if opioids is not the issue."
Using naloxone on someone who has substance use disorder (SUD) is a way to get them services and hopefully into treatment so they can become productive members of society, explained Burnside.
"This event was beneficial to the community as individuals not only need to be educated on the opioid epidemic, but also be prepared to potentially save a life, whenever and wherever," Haley Cothern, senior Health Services and Management Leadership student, said.
Cothern explained that because of this event she learned that people want to help others, even strangers.
"The number of overdose deaths in West Virginia is high," Layman added. "This event allows community members to play a hand in reducing the stigma around substance use as well as being able to play a direct role in reducing the number of deaths due to overdose."
Volunteers provided free naloxone training to those individuals who received a naloxone kit and handed out additional information that could help those with SUD. Volunteers also held signs to attract attention to the event and reduce the stigma around SUD.
"I chose to volunteer at this event because I know that the opioid epidemic is an enormous issue here in my home state of West Virginia," Cothern said. "The volunteer event provided me an opportunity to help. Being able to provide both free naloxone and training to numerous individuals throughout the day enhanced my understanding of SUD and allowed me to make a difference in the community. The community, businesses, and numerous individuals came together to help others and assist in improving the state as a whole."
"Through our work and studies as public health students, we are constantly reminded how big of an issue the opioid epidemic is for our state and this is just one way that we can help," Layman said.
On Save a Life Day, the Monongalia County QRT got 704 kits, or 1,408 four mg doses, of naloxone into the hands of the public.
The volunteer group at the Star City McDonald's location smiles for a group picture after setting up for Narcan distribution and informational tent about SUD.
The volunteer group at the Star City McDonald's location prepares to distribute and administer training to those who receive Narcan.
---
-WVU-
sd/10/05/21
CONTACT: Nikky Luna, Director of Marketing and Communications
WVU School of Public Health
304.293.1699; nikky.luna@hsc.wvu.edu