SPH represented at WV LUNG FORCE Expo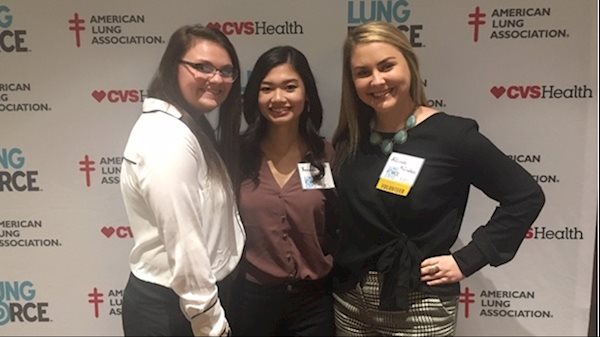 Three undergraduate students and a faculty member from the Department of Occupational and Environmental Health Sciences were on hand to represent the WVU School of Public Health at a recent American Lung Association event in Charleston, WV.
Public Health students Mckenzie Kemp, Allison McCracken and Jessica Tan attended the LUNG FORCE Expo last week. Professor Lan Guo served as keynote speaker at the event. The School of Public Health was a sponsor of the Charleston Expo.
The Expos are a series of programs designed for patients, caregivers and healthcare providers to learn more about the latest trends, resources and research surrounding lung cancer, COPD, pulmonary fibrosis, pulmonary hypertension and other chronic lung diseases.
The one-day event features experts from a variety of lung health-related fields presenting on current research and hot topics, an exhibitor showcase and a chance for patients, caregivers and the local medical community to connect.