Student honorees reflect on their time in the School of Public Health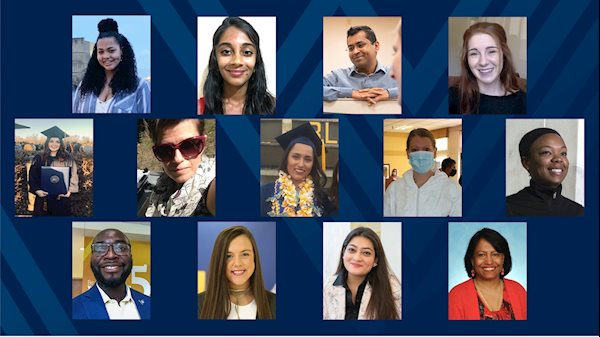 Each year, the West Virginia University School of Public Health honors its top students during a Graduate Awards Luncheon and Delta Omega Induction Ceremony. This year, due to the COVID-19 pandemic, the presentation of awards took on a different look. Although the students, faculty and staff could not gather in person to celebrate, their achievements have not been overlooked. Instead of joining in a round of applause as their names are called and enjoying Flying WV cookies as attendees offer words of congratulations, this year, all friends and family are able to hear from each of the honorees in a ceremony video as they reflect on their time in the School of Public Health and look to the future.
The following students were recognized with academic awards:
Brittany Smith, Outstanding Bachelor of Science in Public Health Student Award
Shree Sriram, Junior Public Health Investigator Award
Raihan Khan, Promising Public Health Investigator Award
Melissa Head, Ruth E. Kershner Community Service Award
Hannah Maier, Junior Public Health Practitioner Award
Maya Nye, Promising Public Health Practitioner Award
Brynna Manibusan, Biostatistics Departmental Award
Stacy Tressler, Epidemiology Departmental Award
Marvina Jones, Health Policy, Management & Leadership Departmental Award
Cletus Oppong, Occupational & Environmental Health Sciences Departmental Award
Hannah Layman, Social & Behavioral Sciences Departmental Award
In addition to recognizing academic award recipients virtually, a new group of members has been inducted into the Gamma Mu Chapter of the Delta Omega Honorary Society. Inductees include:
Mohini Chatterji
Marvina Jones
Hannah Layman
Raihan Khan
Ranjia Misra, Ph.D., Department of Social and Behavioral Sciences Professor, honorary inductee
Please enjoy these words of congratulations from Director of Career Services & Student Success Scot McIntosh and the reflections of our honorees in the ceremony video below.
-WVU-
jw/05/04/20
---
CONTACT: Nikky Luna, Director of Marketing and Communications
School of Public Health
304-293-1699; nikky.luna@hsc.wvu.edu