Top Public Health students, faculty recognized at recent awards banquet and honorary induction ceremony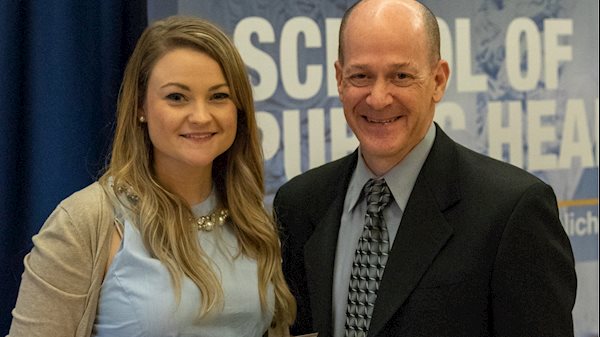 Students and faculty were honored during the recent WVU School of Public Health's Graduate Awards Luncheon and Delta Omega Induction Ceremony on Friday, April 26, at the Erickson Alumni Center.
The following students were recognized with academic awards:
Katie Cranmer, Promising Public Health Practitioner Award
Kyle Strother, Ruth E. Kershner Community Service Award
Bailey Johnson, Outstanding Bachelor of Science in Public Health Student Award
Brittany Smith, Delta Omega Van Liere Poster Competition Undergraduate Level Winner
Jessica Tan, Junior Public Health Practitioner Award
Jasmine Johnson, Junior Public Health Investigator Award
Sara Warfield, Epidemiology Departmental Award
Marco Schaaf, Health Policy, Management & Leadership Departmental Award
Jeffrey Pesarsick, Occupational & Environmental Health Sciences Departmental Award
Angela Dyer, Social & Behavioral Sciences Departmental Award
Director of Public Health Practice & Service Learning Audra Hamrick presented the Outstanding Community Partner Award to Girls on the Run of North Central West Virginia for their ongoing dedication to providing students with excellent hands-on learning opportunities.
In a new joint effort between the Student Association of Public Health (SAPH) and the School's Office of Academic, Student and Faculty Affairs, two new awards were established this year to recognize outstanding faculty members. The awards recognize excellence and creativity inside the classroom and honor outstanding School of Public Health professors who have made a lasting impact on students via their teaching and interaction with students at the undergraduate and graduate levels. Recipients are selected by the student body.
The inaugural Excellence in Undergraduate Teaching Award was presented to Assistant Professor Elizabeth Claydon.
The inaugural Excellence in Graduate Teaching Award was presented to Professor George Kelley.
In addition to student and faculty awards, new members were inducted into the Gamma Mu Chapter of the Delta Omega Honorary Society. Inductees included:
Michaela Stull, undergraduate student
Jessica Tan, undergraduate student
Lauren Ferrell, graduate student
Marco Schaaf, graduate student
Kyle Strother, graduate student
Meghan Tuscano, graduate student
Mindy Sharon, MPH alumna
WVU ICRC Director and Associate Professor Robert Bossarte, honorary inductee
Check out the photos from the event on the School's SmugMug page!