WVU epidemiologist appointed as White House senior policy analyst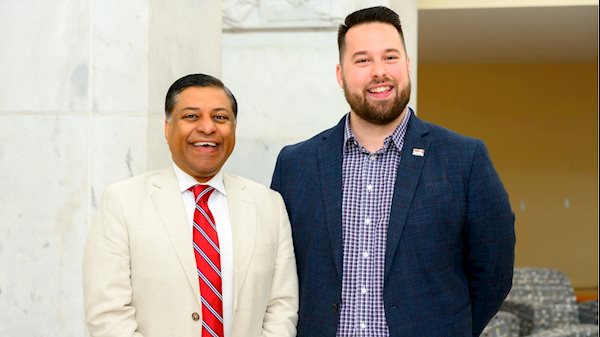 A West Virginia University epidemiologist has joined the White House Office of National Drug Control Policy as a senior policy analyst.
Brian Hendricks, School of Public Health assistant professor in the Department of Epidemiology and Biostatistics, was appointed to the position in fall 2022 through the Intergovernmental Personnel Act mobility program—which provides for the temporary assignment of personnel between governments and eligible organizations—with plans of continuing in the role over the next year.
With extensive expertise in spatial epidemiology and geographical analyses, Hendricks is supporting the use of spatial analyses and other methodological approaches to policy and priorities of the office.
"Over the past year, I spearheaded a project with ONDCP investigating continuous change in risk of drug poisonings by race," Hendricks said. "The study found that disparities in drug poisonings among Black/African American persons have been increasing significantly over time, as opposed to at a single discrete time point.
"This year, I have started working on a collaborative project with the ONDCP, National Highway Safety Administration and National Emergency Medical Services Information Systems, examining non-fatal overdoses and correlates."
Spatial epidemiology is a rapidly advancing field that can be used to improve population health. At WVU, Hendricks and his colleagues are committed to fulfilling that goal through their work in his Spatial Epidemiology and Statistics Lab housed in the School of Public Health, working in conjunction with the WV Clinical and Translational Sciences Institute, directed by Dr. Sally Hodder.
"I'm honored and grateful for this opportunity to serve the ONDCP/EOP as senior policy analyst," Hendricks said. "I recognize the crucial role of this Executive Office and the multidisciplinary work that must be done in order to address the issues in substance use that continue to persist in West Virginia and across the country."
West Virginia University is uniquely positioned to tackle the overdose epidemic – bringing together academic and clinical experts, laboratory scientists, patient advocates, policymakers and the private sector—and recently welcomed Dr. Rahul Gupta, director of the Office of National Drug Control Policy, for discussions on addressing addiction.
Learn more about Dr. Gupta's visit and roundtable discussion with Dr. Clay Marsh and others from across the university.
---
-WVU-