Public Health alum working toward a 'healthy future' for West Virginia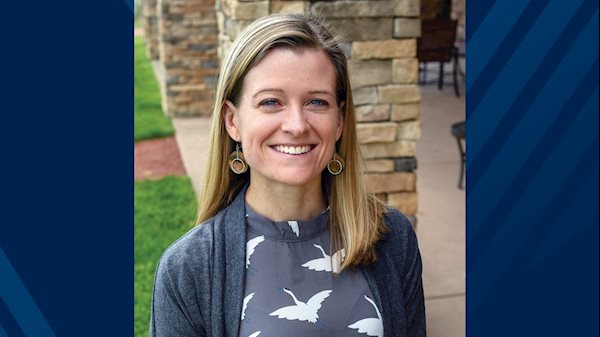 Since earning her Master of Public Health from West Virginia University in 2011, Elaine Darling has been working to create a healthier West Virginia.
Darling has been working with The Center for Rural Health Development (the Center) and is currently serving as the senior program director. The Center for Rural Health Development works to improve the health of West Virginians and strengthen West Virginia's health care delivery system.
"In my role as the senior program director, I provide overall direction to The Center's programs, especially to the West Virginia Immunization Network, a statewide coalition that works to improve immunization rates across the lifespan, and to the Wild, Wonderful and Healthy WV program, which is focused on community health improvement, particularly in underserved and rural communities in the state," Darling said.
In the past year, Darling has been providing information to state residents about the COVID-19 vaccine. In order to reach West Virginians and improve vaccine confidence, Darling and the WVU Public Interest Communication Research Lab (PIC Lab) have worked together to conduct qualitative and quantitative methods to understand West Virginians' perceptions, concerns and beliefs related to COVID-19 vaccination. These findings have been used to inform the development of a statewide communication campaign with Digital Relativity, a firm based in Fayetteville and Charleston, W.Va. The Center received funding for this work from a grant from the Centers for Disease Control and Prevention (CDC), administered by the West Virginia Department of Health and Human Resources.
"We have used the information that the WVU Public Interest Communication Research Lab has collected to guide our work in developing the messages and materials for the communication campaign," Darling said. "West Virginians have a lot of questions about the COVID-19 vaccines and information changes frequently, so we want to ensure that we are identifying their questions and concerns and providing science-based information to answer their questions clearly and concisely."
Print, radio, digital, and TV ads have been used throughout the #CommunityImmunityWV campaign and materials, such as FAQs, graphics, and billboards have been developed for local partners' use as well.
Throughout this work, the Center has partnered with the West Virginia Department of Health and Human Resources, the West Virginia National Guard, WVSU and WVU Extension Service, health associations, local health departments and healthcare facilities, and many others throughout the state. She said it is motivating and rewarding to work with public health professionals and healthcare providers across the state, as they are the ones who have guided West Virginia through the pandemic.
Darling is hopeful that the work she is doing is saving lives and preventing disease across West Virginia.
"One of the things that I like about working with both the WV Immunization Network and the Wild, Wonderful and Healthy WV programs is that I find a lot of value in being able to work in prevention: both through vaccination, but also in addressing social determinants of health through our community health improvement work," Darling said.
Her MPH degree has helped her a lot as senior program director, Darling said. She said the coursework in epidemiology and biostatistics has been very helpful, especially this past year.
"The Master of Public Health degree is important because it has provided a strong foundational knowledge to be able to understand the growing body of scientific studies about COVID-19 and COVID-19 vaccination, and to be able to translate that information into health communication materials for a variety of audiences with varying levels of health literacy," Darling said.
"It's also provided me with the skills to identify and implement evidence-based strategies to conduct community health improvement work, advocate for the advancement of effective health policies, and increase access to preventive services."
Darling is driven to make West Virginia a healthier state. West Virginia is often at the bottom of the health indicators, which is largely her motivation.
"West Virginia is my home and I want the best for it and for the people that live here," she said. "It is the home for my children, so I want to help build a healthy future for my children, my community, and my state."
---
-WVU-
sd/07/15/21
CONTACT: Nikky Luna, Director of Marketing and Communications
WVU School of Public Health
304.293.1699