WVU School of Public Health student's work featured in "Women & Water" exhibit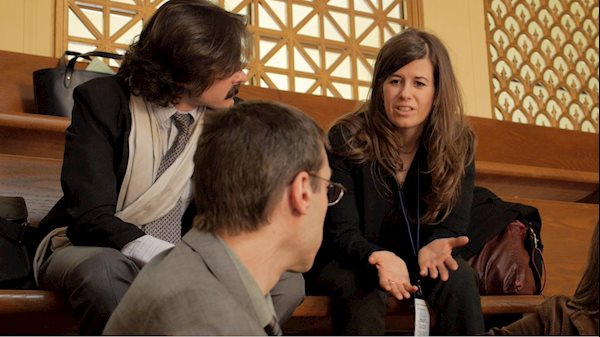 Maya Nye, a Public Health graduate student at WVU, is participating in the upcoming "Women & Water in West Virginia" exhibit at the Downtown Campus Library. Launching in March in conjunction with Women's History Month, the event is part of the WVU Art in the Libraries' ongoing WATER exhibit, a cross-disciplinary, multimedia project examining the power and impact of water in various forms.
Nye's community organizing work to get state Aboveground Storage Tank laws passed and experience conducting "Women & Water" listening sessions during the 2014 Elk River chemical leak are highlighted in the upcoming exhibit.
In addition to her doctoral program at WVU, Nye serves as an advocate at the local, state and national level for environmental justice and chemical safety issues affecting fence-line communities like her native hometown in West Virginia's "Chemical Valley." Her doctoral research uses the Elk River chemical leak as a case study to examine the associations between governmental disaster management and environmental health disparities.
Prior to enrolling at the School of Public Health, Nye was actively engaged with People Concerned About Chemical Safety (PCACS), a community organization in the Kanawha Valley dedicated to the protection of health and safety of all who reside, work and study in the vicinity of local chemical plants producing highly toxic chemicals. As their spokesperson, she testified before the United States Chemical Safety and Hazard Investigation Board and the Environmental Protection Agency's National Environmental Justice Advisory Council and met with President Obama's Federal Interagency Working Group on Chemical Safety and Security. As PCACS' executive director, Nye convened a multi-sector stakeholder group to develop a Chemical Safety Prevention Program for West Virginia and participated in the Project Advisory Group for the Center for Effective Government's publication on "Living in the Shadow of Danger: Poverty, Race, and Unequal Chemical Facility Hazards."
"Women & Water in West Virginia" runs Monday, March 4, 2019, through Tuesday, April 30, 2019. On March 4, from 5-7:00 p.m., there will be an opening reception with a performance. Nye will be participating in this event and also will be part of a panel discussion on "Flint & Charleston: Drinking Water Pollution & its Impact on Women's Health" on March 28 from 4-5:30 p.m.
A complete schedule of events is available in the attached flyer. More details will be available on the Art in the Libraries website.