Walking event to raise pedestrian safety awareness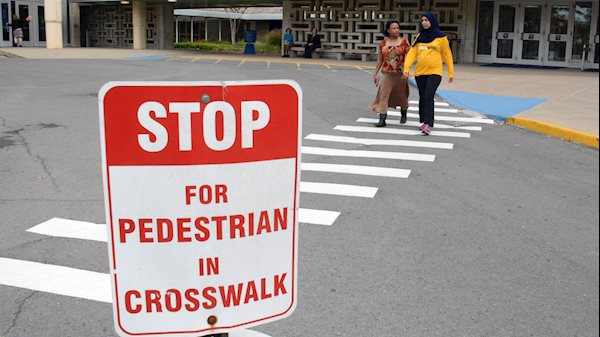 MORGANTOWN, W. Va. – A WVU student-led campaign will inform citizens about the importance of pedestrian safety through an awareness walk from 2-3 p.m. Wednesday, Oct. 28, in downtown Morgantown.
The Heads Up! Pedestrian Safety Campaign will use social media to enhance knowledge and awareness of pedestrian safety. Students in the WVU School of Public Health, faculty members and community partners will work together to reduce pedestrian injuries and deaths among young adults, 19 to 35 years old.
Saba Ashfaq, a graduate student in the Department of Social and Behavioral Sciences in the WVU School of Public Health, is leading the project. Ranjita Misra, Ph.D., and Bill Reger-Nash, Ed.D., are faculty mentors for the project.
"More than 4,700 pedestrians are killed in traffic accidents in the United States each year," Dr. Misra said. "Young adults are the group most vulnerable to pedestrian-related injuries and accidents, and this walk will hopefully help shed some light on that reality."
Members of the Heads Up! Pedestrian Safety Campaign have been collecting data through surveys and observations of pedestrian crossing behavior in the Morgantown area. The social media campaign runs through October. According to Reger-Nash, "The combination of social media and community involvement events allows us to target, engage and empower young pedestrians and motorists to exercise caution and form safe travel habits."
The Pedestrian Safety Awareness Walk is free and open to the public. Registration starts at noon, and the event kicks off at 2 p.m. outside the Mountainlair. A brief speaker presentation will proceed the walk, featuring individuals involved in creating and enforcing pedestrian safety measures in Morgantown. Light refreshments will be served after the walk at the Mountainlair.
CONTACT: Olivia Dale Pape; WVU School of Public Health
304.293.0199; olivia.pape@hsc.wvu.edu