Accreditation
Update on Accreditation Process
Due to the COVID-19 pandemic, the Council on Education for Public Health (CEPH) site visit originally scheduled for April 20-22, 2020, was rescheduled for July 27-29, 2020, and conducted virtually. Additional details will be shared once available. 
Thanks to all School of Public Health students, faculty, staff, alumni and community partners who participated in the process. 
All are welcome and encouraged to review the 2020 School of Public Health Self-Study that was provided to CEPH in preparation for the visit.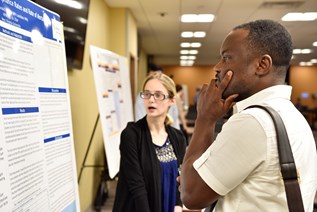 Adhering to a Higher Standard
The School of Public Health is preparing the next generation of population health leaders. In addition to hands-on, experiential learning and research opportunities, the School offers a rigorous curriculum taught by experts in their fields.

We are one of only 67 schools of public health to receive national accreditation by the Council on Education for Public Health (CEPH). Being a CEPH-accredited school provides our students with additional resources and opportunities, as well as the assurance that the WVU School of Public Health delivers quality educational experiences for all students.
CEPH does not accredit PhD programs. Doctoral programs that apply for CEPH-accredited status are seeking this accreditation for the Doctor of Public Health (DrPH) degree. However, our PhD in Public Health Sciences program – with its strong record of student research achievement and placement – is accredited by the Higher Learning Commission of the North Central Association of Colleges and Schools. As we progressed from affiliate school of public health status to accredited school status, all of the programs of the school were evaluated under the CEPH school accreditation rubric.
In 2015, CEPH accredited West Virginia University School of Public Health for a five-year term. The School is seeking reaccreditation, and will undergo a virtual site visit in July 2020. Due to logistical challenges brought on by COVID-19, the School of Public Health will continue to maintain its accreditation status until the recommendations from both the virtual site visit and a campus visit (scheduled no later than November 2021) can be delivered to the CEPH Board.  
View more details on the accreditation process.
Our Journey
The School's petition to begin the process toward school accreditation though CEPH was accepted in June 2012 . During this time, the already solid accreditation status of our strong programs did not change. New schools undergo an intensive two-year period of self-study as part of their initial school accreditation process. (The self-study takes approximately two years; the journey outcome is often closer to three years.)  This process was exciting for the School of Public Health, as well as for colleagues throughout West Virginia and beyond who assisted in the School's expanding mission to address rural health disparities.
Review the School of Public Health 2014 Final Self-Study.
If you have questions about the accreditation process, please contact Dr. Linda Alexander, senior associate dean for academic, student and faculty affairs. 
West Virginia University
Positions

Senior Associate Dean for Academic, Student and Faculty Affairs, Academic & Student Affairs
Professor, Social and Behavioral Sciences

Phone

304-293-8059